HEC 89
Food For Thought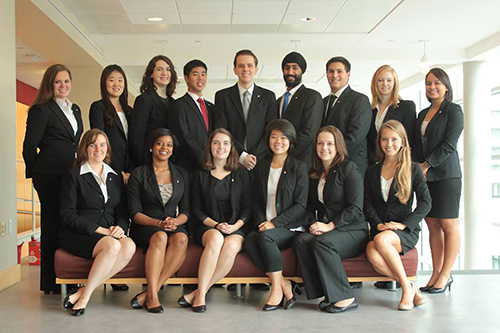 With HEC 89, it was time to start thinking about what we eat, how we prepare it, where it comes from, and what effect food has on our bodies.
Did you know…
Approx. 36% of American adults are considered obese, and experts project that number will rise to 42% by 2030?
Nearly 70% of the calories consumed come from highly processed foods?
Roughly one out of every five meals per person is eaten in a restaurant setting?
The 89th Annual Hotel Ezra Cornell advocated for change, and the program highlighted the importance of healthful eating by engaging speakers from a variety of different fields. Discussions covered the role of the hospitality industry industry in producing, sourcing, and preparing healthful food for customers, and investigated policy initiatives enacted by the United States government.
HEC 89 Board of Directors
Matt Bernard '14
Managing director
Alec Sherman '14
Finance and purchasing director
Ashleigh Evans '14
Food and beverage director
Chloe Arthur '14
Training director
Darby Verdoorn '14
Executive chef
Hannah Shin '14
Conference services director
Jonathan Loke '14
Beverage director
Kelsie Taylor '14
Program director
Krista Schweikle '14
Student experience director
Martha Geherin '15
Food and beverage service director
Mika Choi '14
Marketing director
Nikol Limaduran '14
Design Director
Sehaj Singh '14
Guest experience director
Stacy Delapenha '14
Sales director
Tess Williams '15
IT and communications director
The Program
Someone's in the Kitchen: Tastes, Trends, Politics, and the Evolving Role of Chefs in America
Speaker: Mitchell Davis, executive vice president, James Beard Foundation
Trends in Healthy Food Services
Speaker: Joan Rector McGlockton, vice president for food policy and industry relations, National Restaurant Association
Fresh Food, Fast
Moderator: Alex M. Susskind, associate professor, Cornell University
Speakers: Brad Nelson, vice president, culinary and global corporate chef, Marriott International; Chuck Conine '73, vice president of human resources, LYFE Kitchen; Daryl Ansel '99, director of food services, UCLA
Federal Agencies in Action
Moderator: Reed S. Woodworth '84, vice president, PKF Consulting
Speakers: Charles Milam, principal director for military community and family policy, Department of Defense; Jonathan Jarvis, director, National Park Service; Ursula E. Bauer, director, National Center for Chronic Disease Prevention and Health Promotion
Making the Business of Serving Healthful and Sustainable Food Good for Business
Speaker: Lawrence Williams, CEO, U.S. Healthful Food Council
Slim by Design
Speaker: Brian Wansink, professor/researcher, Cornell University
Purchasing from Small Scale Farmers on a Large Scale…
Speaker: Maisie Ganzler, vice president of strategy, Bon Appetit Management Company
The Panic for Organic
Speaker: Joe Dobrow, author of Natural Prophets
Small Changes on the Food Label Can Make Big Differences
Speaker: Diana Monaco, public affairs specialist, U.S. Food and Drug Administration
Repositioning Food and Beverage in Hotels
Moderator: Stephani Robson, senior lecturer, Cornell University
Speakers: Abby Murtagh, executive director of food and beverage, The New York Palace; Victor Tiffany, senior vice president of hospitality, Seminole Gaming; Beth Scott, vice president of restaurant concepts, Hilton Worldwide
The ABCs of Healthy Eating
Speaker: Dan Kluger, executive chef, ABC Kitchen and ABC Cocina
What's the Problem: Exploring the Challenges and Opportunities of Healthy Eating in America
Speaker: Jennifer Cabe, executive director and board member, Canyon Ranch Institute