Hotel Ezra Cornell
Service. Innovation. Learning. Connection. Fun.
Hotel Ezra Cornell is all this and more. A student-run industry conference with a 97-year-old mission: all that's missing is you. HEC is the self-perpetuating entity of the Hotel School; that is, we strive to take what we learn in our classes and put it into practice.
About Hotel Ezra Cornell (HEC)
Hotel Ezra Cornell (HEC) is a weekend-long business conference organized and executed by the students of the Nolan School. The conference boasts a series of educational seminars, food and beverage events, and leisure activities to generate thought-provoking conversation about the industry and build long-term relationships. For 97 years, HEC has given students the opportunity to practice skills they have learned in the classroom and showcase their talents to the conference's diverse attendees including Cornell alumni, faculty, staff, and industry professionals from around the globe.
HEC Student Involvement
Student-Led. Student-Run. Student-Driven.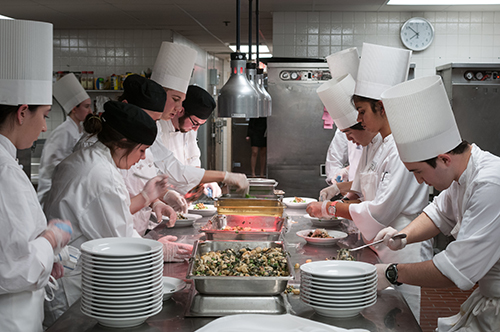 By getting involved with HEC, students from all majors develop leadership skills grounded in experiential learning. After first serving as a conference volunteer, students can expand their responsibilities each year by seeking management positions or joining the board of directors. Students plan and execute every aspect of the conference:
Negotiating with vendors
Developing recipes and menus
Procuring all amenities and food
Managing a budget of $100,000
Creating all marketing materials
Connecting with industry leaders and speakers
Hiring and training student volunteers
Finding and inviting conference attendees
Collaborating with the Statler Hotel, Nolan School administration, and the dean
Additionally, students behind HEC organize other events throughout the school year including the "Mocktail" function for new students, the Homecoming Tailgate, and a "Pop-up" function including several HEC menu items, and more.
Important HEC Registration Dates
HEC 97 will be held from April 21–24, 2022. Registrations will open and our conference theme will be revealed in Fall 2021. We hope to see you in person again to kick off the 100th anniversary of the School of Hotel Administration, now the Cornell Peter and Stephanie Nolan School of Hotel Administration.
We look forward to seeing you in April, and we are so excited to make this newest iteration the "best ever!"
HEC Donors & Sponsorship Opportunities
A Partnership that Works. A Collaboration that Enhances. A Relationship that Lasts.
Every year, we integrate all of our sponsors' generous donations into the conference in a way that manages to drop as many jaws as possible. Providing anything from amenity items for the guests' hotel rooms to the key ingredient in a dinner's entrée, donors can watch as their products transform the attendee experience from one that is pleasant to one that is extraordinary.
Interested in supporting the next HEC program? Contact hec@cornell.edu for more information.
Discover HEC's Rich History
Since 1925, Hotel Ezra Cornell has showcased hospitality education through student leadership. Browse past programs and themes here.
Ready to Get Involved with HEC?
Explore ways you can become involved as a student and access important news, updates and resources at the Hotel Ezra Cornell website.