Visit Us
Are you ready for the adventure of a lifetime? Plan a visit to see how the School of Hotel Administration (SHA) can set you on the course to an exciting, adventure-filled career. Immerse yourself in the culture of a storied Ivy League university, and see for yourself how, for more than 90 years, SHA has continued to break new ground in the world's largest and most dynamic industry. We are located on the Cornell University campus in picturesque Ithaca, New York, consistently ranked as one of the best college towns in America.
Undergraduate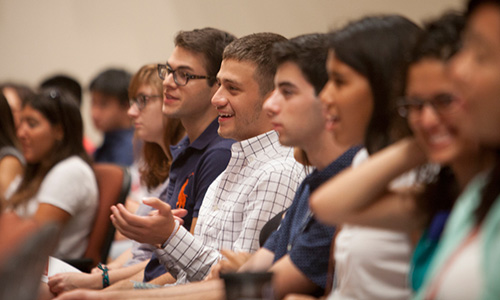 Our admissions team and current students are here to introduce you to SHA and show you what it really means to be a Hotelie. Learn about the information sessions we offer, how you can observe a class, SHA and campus tour schedules, and more on our undergraduate Visit Uspage.
If you are unable to visit our campus, we will be offering virtual information sessions this fall. We will have more information, including dates and times, sometime over the next few weeks. Check back soon, or show us your interest by completing the form on our Request Info page and including your desire to take part!
MMH
There are many ways to connect with MMH—meet individually with an admissions team member, sit in on a class, go to lunch with a current MMH student, tour the school, or participate in a live Twitter chat. See the MMH Visit Us page to learn about all your options.
Baker Program in Real Estate
You are invited to visit the Cornell Baker Program in Real Estate to experience the unique and personalized nature of the program. To schedule a visit, contact us at real_estate@cornell.edu or 607.255.7110. Learn more on the Baker Program website.
Other Programs
Visit the MS & PhD program page to learning more about our research-based degree programs.
Learn more about our online, classroom, and custom learning options for industry professionals on our Executive Education website.
Contact Us
Admissions Office
149 Statler Hall
Ithaca, NY 14853
Hours:
Mon-Thurs, 8:00 a.m.-4:30 p.m.
Fri, 8:00 a.m.-3:30 p.m.
Phone:
607.254.4228