HEC 84
Illuminating the Possibilities: Learning from Las Vegas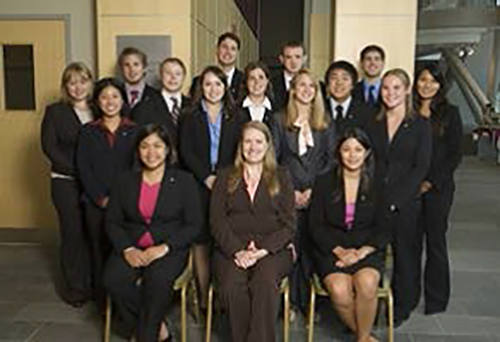 HEC 84 turned its focus toward the most dynamic and exciting hospitality destination in the world: fabulous Las Vegas, Nevada. Full of innovation and bursting with entrepreneurial spirit, this sophisticated service economy holds lessons for anyone in the hospitality industry. Attendees familiar with the innermost workings of Vegas's top destinations shared their expertise with true Sin City flair—and, of course, a few tricks up their sleeves.
HEC 84 Board of Directors
Kira Gailey '09
Managing director
Adam Dennett '11
Hotel operations director
Alison Harrigan '10
Program director
Cathy Popp '10
Procurement director
Erin Cade '09
Executive chef
Hilary Wattenberger '09
Food and beverage service director
Jessica Rubin '10
Communication consultant
Justin Gould '10
Information systems director
Katie Tomechko '11
Conference director
Kyi Gyaw '09
Design director
Michelle Hyjek '09
Business services director
Natalie Ho '09
Food and beverage director
Peter Bowen '09
Public relations director
Rachelle Borja '10
Human resources director
Willis Cheng '11
Guest services director
Zachary Ruben '11
Marketing director
The Program
Las Vegas: Past to Present
Speaker: Marc Falcone '95, Goldman Sachs
Gary Loveman: The Las Vegas Perspective
Speaker: Gary Loveman, CEO, president, chairman, Harrah's Entertainment
Isadore Sharp: Luxury in Las Vegas
Speaker: Isadore Sharp, founder, CEO, chairman, Four Seasons Hotel Company
Developing Las Vegas
Speaker: Bob Boughner, CEO and president, Echelon Place
Brad Stone: The Future of the Industry
Speaker: Brad Stone, president of global operations and construction, Las Vegas Sands Corp.
Only in Vegas: Operating a Mega Destination
Moderator: Mark Birtha '94, vice president of development, Marriott International
Speakers: Arthur Keith '84, president, general manager, The Stratosphere Hotel and Casino; Andrew Klebanow '91, principal, Gaming Market Advisors; Harry Kassap, vice president of marketing (emeritus), McCarran Airport; Sid Vaikunta '99, assistant general manager, Suncoast Hotel and Casino (formerly vice president of marketing and operations, Echelon Resorts)
The Las Vegas Restaurant World
Moderator: Professor Chekitan Dev, School of Hotel Administration
Speakers: Elizabeth Blau, founder and CEO, Blau and Associates; Todd English, executive chef and restauranteur; Damian Mogavero, CEO and founder, Avero LLC; Steven Schussler, CEO and founder, Schussler Creative; Jason Lapin '90, partner, Blau and Associates
Wynn Resorts: Back to Basics
Speaker: Tom Breitling, senior vice president, strategy and development
Deductive Wine Tasting Lesson
Speaker: Greg Harrington '92, owner, Gramercy Cellars