HEC 83
A Weekend of Hospitality, Education, and Collaboration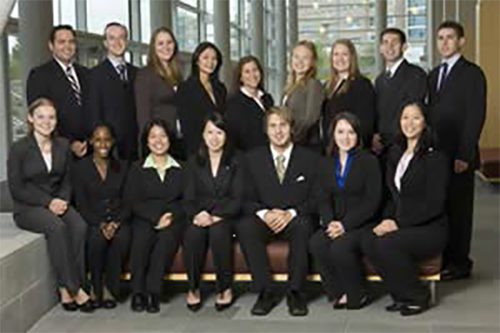 When discussing possible themes for HEC 83, the board of directors felt that the primary reason people attend HEC was exactly that: H.E.C., or our three core values—Hospitality, Education, and Collaboration. Keeping in mind the organization's then-new (and current) mission statement, "Showcasing Hospitality Education Through Student Leadership," the goal for the weekend was to provide all guests with an educational, enjoyable experience and solidify the perception of HEC as the pinnacle of hospitality education.
Among the highlights of the weekend, experts addressed equity in the hospitality industry, presented leisure activities including yoga and wine and honey tastings, and explored the power of sleep.
HEC 83 Board of Directors
Geoffrey Gray '08
Managing director
Alison Harrigan '10
Guest services director
Brett Rubin '08
Operations director
Cathy Popp '10
Executive chef
Grace Juan '08
Design director
Gregory Mezey '09
Guest experience director
Jessica Powell '10
Public relations director
Jessica Rubin '10
Marketing director
Kira Gailey '09
Human resources director
Liz Longstreet '08
Food and beverage director
Michelle Hyjek '09
Program and conference service director
Natalie Ho '09
Food and beverage service director
Peter Bowen '09
Program and procurement director
Tanya Wong '09
Program director
The Program
Setting the Scene: Industry Update
Speakers: Mark Lomanno, president, Smith Travel Research; Mark Woodworth '77, MPS '78, executive vice president, PKF Consulting; Peter Yesawich '72, chairman and CEO, Y Partnership
The Continual Evolution of Equity
Speakers: Michael Cahill '84, president and founder, Hospitality Real Estate Counselors; Robert Kline '84, president and co-founder, Chartres Lodging Group Inc.; Joy Hou '98, director, Barclays Capital; Allen Smith '80, managing director and senior portfolio manager, Prudential Real Estate Investors; Simon Turner '83, principal, Hotel Capital Advisors
Lodging Derivatives: What's That?
Speaker: Professor Daniel Quan, School of Hotel Administration
The Olympic Impact
Speakers: Ira Cohn, president, Aramark Business and Industry Group; Marc Bruno '93, vice president, Aramark Business and Industry Group
Power Sleep
Speaker: James Maas, psychology professor and Stephen H. Weiss Presidential Fellow, Cornell College of Arts and Sciences
Hospitality in Emerging Markets
Speakers: Brian Ferguson, senior vice president planning and analysis, Expedia, Inc.; Vincent Joyner, CEO, ACCOR Southern Africa; Paul Sistare, CEO and president, Atlantica International Hotels; Adnan Shamim, director of development, Dubai Infinity Holdings
Wine Tasting
Speaker: Courtney Cochran, owner and founder, Your Personal Sommelier
Honey Tasting
Speaker: Glenn Card, professional beekeeper, Merrimack Valley Apiaries