Clubs and Organizations
The School of Hotel Administration is home to approximately 20 clubs and organizations that are a part of the Cornell Hotel Society, Collegiate Chapter (CHS, CC), the school's club umbrella organization. CHS works with clubs to help students discover their career paths, develop their leadership skills, and form a wide network of contacts who can help them after they graduate.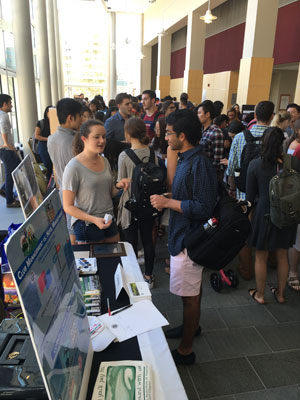 Hotel School clubs offer students the opportunity to further develop their interests and passions in a variety of hospitality-related areas, including spas, sales and marketing, food and beverage, real estate, entrepreneurship, and much more. Clubs are active throughout the academic year with a wide range of events, including bringing in industry leaders (often alumni of the school) who share their expertise, hosting charity events, and touring facilities to learn more about a particular aspect of the industry.
Students may join more than one club as a member and may also run for an elected officer position. At the beginning of each fall semester, learn more by attending the Club Fair. You may also learn more about Hotel School clubs and organizations on CampusGroups, a web-hosted platform that creates an online community for Hotel School clubs, and for clubs and organizations at Cornell as a whole.
More information on the below clubs can be found on Cornell University's CampusGroups site:
Air and Sea Hospitality
Air and Sea Hospitality explores the aviation and cruise industries. The club involves more than just purchasing a plane/cruise fare, boarding, and arriving at your destination. Every aspect of that simple process comes with variables that dictate everything ranging from the price you pay to the quality of service you receive onboard!
American Hotel and Lodging Association, Student Chapter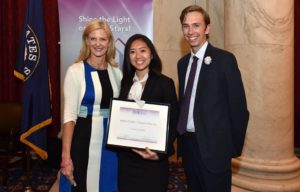 The American Hotel and Lodging Association is an advocate of the American lodging industry for Hotel School students through education, information, and member services, and aims to build meaningful and professional connections between AH&LA and Cornell University.
Club Managers Association of America (CMAA), Cornell Chapter
CMAA, Cornell Chapter promotes close ties between the CMAA and students at the Hotel School. The club promotes and advances friendly relations between its members and professional club managers while educating students in the field of club management.
Real Estate Club, Cornell
The Club for Real Estate is a group of students sharing their passion for all aspects of hospitality real estate finance, banking, and development. The group works to foster an understanding of the industry and the trends in the marketplace, providing opportunities for networking with hospitality professionals.
Comunidad Latinx in Hospitality (CLH)
The mission of Comunidad Latinx in Hospitality is to foster a community of students within the school who identify as Latinx or have a special interest in Latino issues and culture. CLH hopes to promote the work and achievements of Latinx students in the Hotel School by creating a community and providing outreach to incoming Latinx students.
Cornell Hotel Society, Collegiate Chapter (CHS, CC)
The CHS, CC is the student assembly and the umbrella organization over all the student organizations at the Hotel School. The CHS, CC seeks to build, to strengthen, and to promote the connection between students and alumni by creating networking opportunities for students and encouraging their involvement in Hotel School clubs and organizations. Membership in the Collegiate Chapter exceeds 900 students; all students of the School, graduate and undergraduate, attain membership upon matriculation.
Cornell University Spa Association (CUSPA)
CUSPA creates a high-quality student organization that fosters education and awareness among Cornell students about the spa industry. CUSPA aims to act as a link between professionals of the spa industry and students, as well as sponsoring forums, workshops, and lectures in the Cornell community. CUSPA will supply students with the tools and knowledge necessary to become future leaders in the global spa industry.
National Restaurant Association, Cornell University (formerly Epicurean Society)
The National Restaurant Association supplements the current gastronomical knowledge of our members in order to build their appreciation and knowledge of the culinary world. The Epicurean Society will unite students, alumni, and industry leaders with a strong interest in food and beverage in an effort to promote industry networking.
Female Leadership in Hospitality
The Female Leadership in Hospitality Club educates and encourages future female leaders in the hospitality industry. Members gain insights and learn from the challenges faced by female industry leaders through research, guest speakers, and networking. We aim to learn about and break stereotypes while creating strong bonds.
Hospitality Consulting, Cornell (CHC)
CHC provides students with an opportunity to apply academic concepts to case studies and real-world consulting projects. We strive to embody the goals of the school (learning hospitality leadership through a blend of theory and practice) with a focus on analytic consulting. CHC targets students who have an interest in applying what they have learned in the classroom to the real world. We achieve our mission by working together on case studies for new members, gaining experience from real-world consulting projects, and learning from guest speakers.
Hospitality Financial and Technology Professionals (HFTP)
HFTP is the global professional association for financial and technology personnel working in hotels, clubs, and other hospitality-related businesses. The Cornell University Student Chapter promotes closer ties between the HFTP organization and Hotel School students, and promotes the fields of hospitality finance, accounting, and technology within the school.
Hospitality Sales and Marketing Association International (HSMAI)
HSMAI operates as part of a greater international organization, boasting members from numerous universities and companies around the globe. HSMAI promotes sales and marketing and fosters a networked environment where interested Hotel School students can stay current on trends, connect to the larger industry, and ultimately find employment in sales and marketing through speaking with industry professionals and going on research field trips.
Hospitality Students International (HSI)
Hospitality Students International works to increase multicultural and global awareness among Hotel School students through social, educational, cultural, and professional experiences. It provides support for student development by creating international work opportunities and serves as a source of information by building international friendships and contacts. HSI cultivates a truly global network of social and professional contacts with alumni members, international industry leaders, and global hospitality programs.
Hotelie Entrepreneurs (HE)
The mission of Hotelie Entrepreneurs (HE) is to spark the entrepreneurial spirit among Hotel School students. HE strives to give students the tools to make big and intangible business ideas a tangible reality. This organization is an outlet for experimenting with and expressing your ideas. HE achieves their mission through bringing industry-leading entrepreneurs and visionaries to discuss their experiences, as well as through workshops that will provide practical experience for developing business acumen.
Hotelies Serving Society
HS2 encourages Hotel School students to develop a lifelong spirit of service, a thorough understanding of social issues, and a prevailing sensitivity towards other people. The organization, formerly known as Hotelies Volunteering Today, is committed to helping students find opportunities to volunteer in their communities and apply what they have learned about service in the classroom to bettering those communities.
National Society of Minorities in Hospitality (NSMH)
NSMH is a national non-profit organization that seeks to promote hospitality education, to foster professional advancement for minorities, and to create awareness of minority diversity in the hospitality industry. The Cornell chapter serves as a mechanism to meet the needs of minority students of African, Asian, Hispanic, and Native American descent in the school.
Nightlife Hospitality Club
The Nightlife Hospitality Club cultivates an understanding of the nightlife industry and the relevance of nightclubs, bars, and casinos as important revenue streams for hospitality companies. Serving as a conduit between executives in the industry and students, the club sponsors charity events, hosts guest speakers, and organizes nightlife venue tours.
Cornell Financial Analysts
The Cornell Financial Analysts brings together Hotel School students interested in pursuing a career in financial services, connecting them with alumni and industry leaders through on- and off-campus events.  Members will become more informed about working in the industry and gain exposure to successful industry leaders.