Clubs and Organizations
The School of Hotel Administration is home to approximately 20 clubs and organizations that are a part of the Cornell Hotel Society, Collegiate Chapter (CHS, CC), the school's club umbrella organization. CHS works with clubs to help students discover their career paths, develop their leadership skills, and form a wide network of contacts who can help them after they graduate.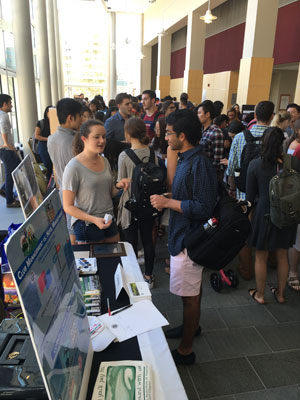 Hotel School clubs offer students the opportunity to further develop their interests and passions in a variety of hospitality-related areas, including spas, sales and marketing, food and beverage, real estate, entrepreneurship, and much more. Clubs are active throughout the academic year with a wide range of events, including bringing in industry leaders (often alumni of the school) who share their expertise, hosting charity events, and touring facilities to learn more about a particular aspect of the industry.
Students may join more than one club as a member and may also run for an elected officer position. At the beginning of each fall semester, learn more by attending the Club Fair. You may also learn more about Hotel School clubs and organizations on OrgSync, a web-hosted platform that creates an online community for Hotel School clubs, and for clubs and organizations at Cornell as a whole.
More information on the below clubs can be found on Cornell University's Student Organizations site: