Student Assistants to the Dean
I am pleased to announce the appointment of Jonathan Lee '20 and Karolina Vass '20 as dean's assistants for the academic year 2019-2020. Karolina and Jonathan bring wonderful qualifications to the position, are naturals to lead HADM 1910 - Distinguished Lectures in Hospitality Management, and will represent the school well in this important leadership role. Learn More About HADM 1910

Kate Walsh, Dean and E. M. Statler Professor
Dean's assistants for academic year 2019-2020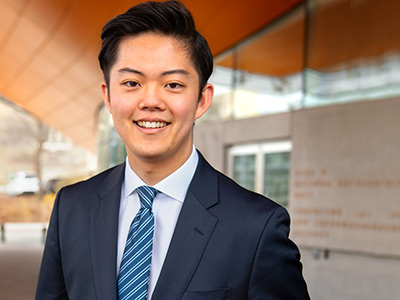 Jonathan Lee '19
Jonathan's enthusiasm for serving the Hotel School began when he joined the Dean's Student Advisory Board in his freshman year. In this role, Jonathan took great pride in spearheading events such as Downtime with the Dean and the SAB Career Advisory Panel and continues to work with the Office of Student Services and the Career Management Center in improving career fair experiences for Hotel School students. He also served as the President of the Cornell Real Estate Club, leading real estate industry-focused treks to various cities around the world and working with the Center for Real Estate Finance in organizing events featuring prominent industry leaders. He previously served as a director of professional development at the Cornell Hotel Society and as a member of the Hotel Leadership Development Program in the front office of The Statler Hotel. Outside the Hotel School, he successfully led a crowdfunding effort to raise funds to help less fortunate children travel to the Herbert F. Johnson Museum of Art. Jonathan has loved playing on the Cornell Club Tennis team since his freshman year and is a brother of Delta Phi (Llenroc). Academically, Jonathan is concentrating in finance and minoring in real estate. Last summer, he explored both areas of interest this summer as an investment banking analyst for JP Morgan in the CMBS Originations Group in New York City. Upon graduation, he will be working as an investment banking analyst for Goldman Sachs in New York City. He has also served as a Teaching Assistant for Finance, Hospitality Quantitative Analysis, and Distinguished Lectures in Hospitality Management. Jonathan is a December 2019 degree candidate and has earned Dean's List honors for multiple semesters.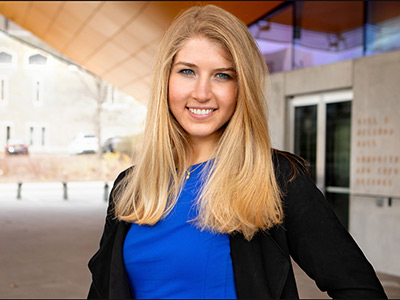 Karolina Vass '20
Karolina's passion for hospitality and the intersection of health has only grown since her arrival to the Hotel School.
As a native of Budapest, Hungary, she adds a valuable perspective to the Hotel School community, highlighting the international value of our school's network.
Her dedication to both her classes and her community is evident in her commitment to student organizations as well as her interest in working with students and faculty alike as a teaching assistant in various classes.
She currently holds leadership positions in two student organizations serving as the President of Hotel Entrepreneurs and as the Treasurer of the CU Spa and Wellness Association.
Karolina served as a teaching assistant for classes such as Strategic Management, Organizational Behavior and Leadership, as well as Introduction to Wines.
Her previous involvements include marketing and guest experience management for Hotel Ezra Cornell, and working closely with the Cornell Hotel Society in developing their young alumni programs.
She is currently pursuing a concentration in Entrepreneurship and a minor in Healthy Futures Design that brings together her interests in design, health, technology, and hospitality. Her past internship experiences include guest management for Four Seasons and working with early-stage startups in Europe.
She is a candidate for the class of 2020 to graduate in May.