Hospitality Hackathons
A Hackathon is an exciting way to bring together teams of motivated people of various backgrounds in a determined push to answer a specific question through self-expression and creative use of technology.  The Leland C. and Mary M. Pillsbury Institute for Hospitality Entrepreneurship is proud to partner with various companies throughout the hospitality industry to provide an opportunity for this type of collaborative problem solving.
A hackathon is an event in which students analyze a series of challenges and must present solutions to these challenges with the help of supporting data. Student teams work over the course of a weekend with the help of industry and faculty mentors to develop an idea or product. Students present these ideas to judges in a business or "shark tank" pitch to determine a winning team.
No. While many hackathons do traditionally focus on coding and technology, this is not a requirement. The Cornell SC Johnson College of Business encourages hackathon style events that may focus more on idea generation, problem solving, and business pitches than on actual coding and products. Alternative ways to think of these events would be as a "Shark Tank", "Think Tank", or "Thinkathon."
Typically, these events are open to all students at Cornell University. Demographics often include a large mix of students from different schools, programs, and grades. A successful Hackathon may contain anywhere between 50 and 200 student participants depending on the topic. In addition to student participants, each Hackathon requires the participation of judges, mentors, and support staff. The Cornell SC Johnson College of Business can help staff these roles but we recommend representatives from supporting organizations and industries be involved.
Hackathons are typically held over the course of 3 days, usually on a weekend to maximize student availability. The first day introduces challenges, clarifies any rules, provides relevant data, and allows for team formation of 3 to 6 participants each. The second day is primarily a working day for participants to work through challenges and develop their ideas/products. The third and final day is when teams must pitch their projects to a panel of judges to determine winners. Food is provided throughout the event and mentors are constantly present to help students develop their concepts.
For students the benefits include exposure to real world problems, networking opportunities, and potential prizes. For supporting organizations, these events can provide brand awareness amongst students, unique solutions to actual business problems, soft recruiting opportunities, and improved collaboration with our faculty.
Every Hackathon is unique and different levels of support offer different opportunities. Depending on how involved an organization may wish to be in a Hackathon, you may need to provide judges or mentors, develop challenges, provide data sets, identify rules, determine prize categories, set the schedule, or provide financial support.  We recommend reaching out to our team to begin discussing the specifics of how you can get involved.
Reach out to our team at externalrelations@business.cornell.edu to begin discussing how you can get involved. We recommend reaching out well in advance, as a typical hackathon requires 6 to 9 months of planning to succeed and due to a very full academic calendar, we are only able to support select events at specific times.
Question: Who can register?
Answer: We welcome any and all Cornell students to participate on a first-come first-serve basis. There is no screening process and no limitations, any student from any background is encouraged to join us.
Question: Do I need an idea to participate in the hackathon?
Answer: No. Three themes will be shared Friday evening and students will have a chance to recruit team members.
Question: What will be the Challenges for this Hackathon?
Answer:  Three challenge topics will be announced during our kick-off session on Friday. All three topics will be related to hospitality and will rely on data provided. You will be able to self-select the challenge that most appeals to you and your team.
Question: Do I need to know how to code to participate in a hackathon?
Answer: No. The best teams are made up of individuals from a variety of backgrounds and experiences. Representation from various degree programs, education level, gender, etc. can foster excellent ideas and results.
Question: Do I need a team to register?
Answer: While teams are encouraged to register, they are not required. Cornell students are welcome to register individually and will have an opportunity to form teams at the event on Friday night.
Question: What do I need to bring?
Answer: You will need to bring your own personal hardware (laptop, charger, tablet, etc) to work on the Hackathon challenges. You will need your Cornell ID to access the building. We will supply you with relevant data access and power. Food and beverages will be provided throughout the entire weekend. You are welcome to stay at eHub as long as you like on Friday and Saturday so you may also want to consider bringing headphones, sweaters, and sleeping supplies if desired.
Question: Does it cost money to participate?
Answer: No. The hackathon is entirely free for students. All meals are provided (Friday dinner through Sunday Lunch).
Question: I have questions, who should I contact?
Answer: Contact mlc296@cornell.edu for additional questions.
Hilton Hospitality Hackathon - 2022

Cornell Hospitality Hackathon 2022 – a business case competition with a hospitality focus
Brought to you by Hilton & Salesforce/Tableau
Theme: Delivering Exceptional Experiences for the Hotel Guest of the Future
Hilton and the Leland C. and Mary M. Pillsbury Institute for Hospitality Entrepreneurship are partnering at Cornell to elevate the hospitality experience for a post-pandemic world. The COVID-19 pandemic has created new challenges for the hospitality industry: a changing labor environment and evolving guest expectations for engaging in the on-property experience.
Over the past 5 years, the motivation for travel has shifted. Gone are the days of all trips being classified as "business" or "leisure" as more guests are opting for a hybrid experience – now referred to as "workcation". Using data from 2019 through today, what are some signals Hilton can use to distinguish the guest's motivation for travel?
Furthermore, develop innovative ways that Hilton can enhance both the on-property and digital customer experience to better cater to evolving guest needs.

Hilton Hackathon in the News
Sarah Monahan '19, Senior Analyst, Hilton
Dan Pinault, Principal Solution Engineer, Tableau
Morgan Train '19, Senior Analyst, Hilton
Ryan Kinsey, Sr. Analyst, Revenue Forecasting, Hilton
Anton Racklin, Senior Analyst, Hilton
Jaime Novikoff, Counsel, Labor Relations, Hilton
Aaron Adalja, Assistant Professor, F&B Management, Applied Economics and Policy, Cornell Nolan School of Hotel Administration
Linda Canina, Georges C. and Marian St. Laurent Professor in Applied Business Management, Cornell Nolan School of Hotel Administration
Andrew Quagliata, Senior Lecturer & Assurance of Learning Director, Cornell Nolan School of Hotel Administration
Denise Ramzy, Senior Lecturer, Charles H. Dyson School of Applied Economics and Management
Vincent Slaugh, Assistant Professor of Service Operations Management, Cornell Nolan School of Hotel Administration
Rob Gregor '00, JD '07, Founder and Owner, Gregor Hotels
Asis Martinez-Jerez, Associate Professor, Cornell Nolan School of Hotel Administration
Jules Sieburgh, Principal, Jules A. Sieburgh, LLC
Cindy Estis Green, Chief Executive Officer & Co-Founder, Kalibri Labs
Jess Petitt '05, Senior Vice President, Commercial Strategy, Insights & Analytics, Hilton
J.D. Barnes,Vice President, Global Workforce Innovation, Hilton
Chris Anderson, Professor, Cornell Peter and Stephanie Nolan School of Hotel Administration
Sarah Wolfolds, Assistant Professor, Charles H. Dyson School of Applied Economics and Management
2022 Hospitality Hackathon Winners
Grand Prize: Team Consonants
Pablo Raigoza '26 (A&S)
Zubin Bhaumik '26 (Eng)
Mohammad Khan '26 (Eng)
Rui Chen, MPS RE '24 (Baker)
Yington Li '23 (Nolan School)
Second Place: Team The Boys are Hack in Town
George Austin '23 (Nolan School)
Ryan DeGraw '23 (Nolan School)
Darren Liu '23 (Nolan School)
Milad Rohani '23 (Nolan School)
Pranav Vashist '23 (Johnson)
Third Place: Team Hiltelies
Ivy Ho '24 (Nolan School)
Karl Lam '24 (Nolan School)
Hanyi Wang '24 (Nolan School)
Simon Zhou '24 (Nolan School)
Best Visualization: Team Sigma Tau Alpha Tau
Jonathan Gotian '24 (Dyson)
Jeanie Liu '23 (Dyson)
Ayomikun Oyemade '23 (CALS)
Kazuma Parkinson '23 (A&S)
Elana Pocress '24 (CALS)
Most Innovative: Team Dragons
Aishwarya Bhaskaran '23 (Eng)
Adam Fofana '22 (Eng)
Kristen Ikle '24 (CALS)
Sarah Langleben '24 (CALS)
Tyson Reed '22 (Eng)
Best Presentation: Team Hint of Sarcasm
Tom Burke '23 (Nolan School)
Dani Kaiser '23 (Nolan School)
Matthieu Laurens, MMH '23
Kenneth Trinh '23 (Eng)
Esther Zhao, MMH '23
Hilton Hospitality Hackathon - 2021

EVENT DETAILS    PROMO VIDEO    OVERVIEW VIDEO    Photo album
Cornell Hospitality Hackathon 2021 – a business case competition with a hospitality focus
Brought to you by Hilton & Salesforce/Tableau
Theme: Elevating the Hospitality Experience for a Post-Pandemic World
The COVID-19 pandemic has created two unique problems for the hotel industry: Guests with health safety concerns want to limit interactions with hotel employees while simultaneously hotels are facing a labor shortage due to the flurry of unexpected hotel closures since March 2020.
The pandemic has transformed the way many guests want to interact with hotel employees. What are some ways we can accommodate the guest that wants less human interactions during their stay?
With the start of the return to travel, many hotels are struggling to fill open jobs. What changes need to be made to attract back both former employees who may have left the industry while recruiting new and differentiated candidates for a career in hospitality?
Hilton Hackathon in the News
Overall Winner: Team Hiltonality
Hilton with a personality- a personified, incentive-based intelligent digital ecosystem through an integration with the existing 'Hilton Honors' app for the guests and an additional iPad app 'Hilton Hires' for their employees. The application was a curation informed by visualizing Hilton's real-time data through Tableau!
Armaan Goyal '22 (Nolan School)
Kalil Allon '22 (Eng)
Tanaya Yadav '22 (Eng)
Hamid Waraich '22 (Nolan School)
Best Data Visualization: Faria
Faria recognized the problem of low app engagement and various levels of efficiency across markets. They proposed an online check-in/check-out solution as well as a Digital Key integration will Apple Wallet to allow guests to avoid using the existing app. Their data visualizations created in Tableau show line charts, pie charts, and area graphs to highlight key challenges.
Jorge Calvar MBA '22 (Eng)
Diego Fernandez '24 (Eng)
Alvaro Guerrero '22 (Eng)
Carlota Lopez '22 (Eng)
Best Digital Solution: Team Johnson
Team Johnson explored the entire customer journey from booking to next trip planning and identified key areas of opportunity to integrate digital solutions. They proposed enhancing the existing Hilton Honors app with more features, such as a real time live folio and F&B ordering, to create a more seamless guest experience.
Alicia Park, MBA '22
Grace Allen, MBA '23
Jae Lee '22, MBA
Jayme Chen, MBA '22
Lynda Liu, MBA '22
Sandra Pan, MBA '22
Best Labor Solution: Team notliH
nohliH proposed a solution to flip the current recruitment process around, by partnering with local educational institutes to attract part-time talent and expose students to the industry early on. They referenced a real use case of a high school that currently implements this program and expanded on the potential of more co-op programs and how this will help combat current labor challenges.
Amy Cao '23 (Nolan School)
Rosemary Wei '23 (Nolan School)
Julian Huang '23 (Nolan School)
Andrew Cai '23 (Eng)
Eric Huang '24 (Eng)
Hilton Hospitality Hackathon - 2019

*Grand Prize*: Team L'Hospitable
Max Li
Jerry Sun
Sijia Zhou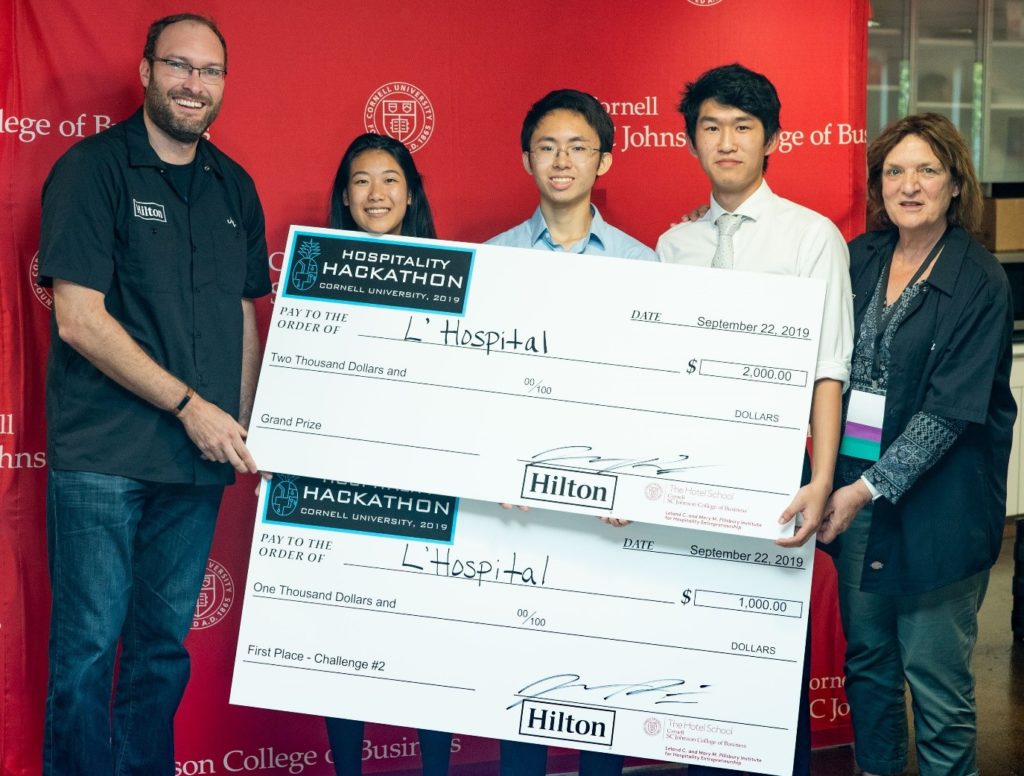 First Place: Team Sticky Notes
Paulina Endara
Stefan Hench
Yi Huang
Kana Suda
Frances Wang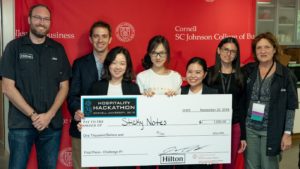 Second Place: Team Pina
Antonius Aditya
Shiang-Wan Chin
Matthew Douglas
Montserrat Gatnau-Vera
Benjamin Nelson
Second Place: Team Cheetos
Ayana Chen
James Cummings
Victor Khong
Kimberly Kuh
Emily Wang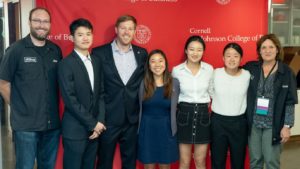 Third Place: Brownish
Abdullah AlShuaibi
Malav Gandhi
Khusbu Patel
Cameron Scott
Jeremiah Swain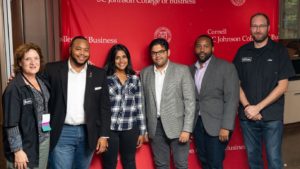 Third Place: Team Conrads
Anshul Bakhda
Zach Beauchamp
Julia DeNardis
Romain Faure
Kevin Kuwahara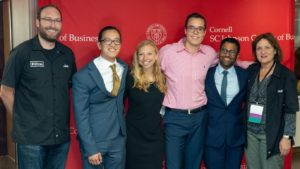 To learn more about Hospitality Hackathons at Cornell University, including information on registration and participation, please contact pihe@cornell.edu.