The Pillsbury Institute stays continually involved with students, entrepreneurs, faculty, alumni, and practitioners through a broad range of activities—programs, events, competitions, internships, and organizations. Join the Pillsbury Institute, where we educate, innovate, and generate—the next generation of entrepreneurs.
Alums, entrepreneurs, and industry innovators interested in becoming involved with the Pillsbury institute should contact pihe@cornell.edu.
Faculty
Entrepreneurs and Innovators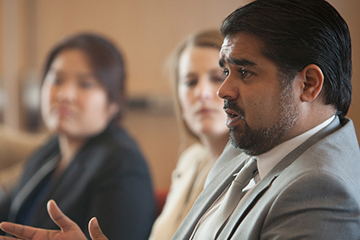 Check out our fall line up and sign up to meet with an entrepreneur!
Five student teams competed for the chance to win $25,000 as part of Hotel Ezra Cornell's seventh annual Hospitality Business Plan Competition.
Contact Us
Leland C. and Mary M. Pillsbury Institute for Hospitality Entrepreneurship
School of Hotel Administration
Cornell University
149C Statler Hall
Ithaca, NY 14853
607.255.0179
pihe@cornell.edu