Student Perspective by Kelly McDarby '16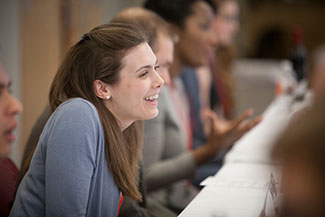 Pillsbury is my community. During my time at Cornell, I have experienced no stronger or more passionate network of people than at the Pillsbury Institute. We are all united for our love of hospitality and entrepreneurship, and our goals and visions work together in impactful ways.
As a student member of the community, I have had the opportunity to work with Professor Mona Anita Olsen on initiatives to grow the institute both with greater programming and membership. With the announcement of the entrepreneurship concentration at the School of Hotel Administration (SHA) last year, we have made strides in developing a strong brand for ourselves at Cornell and beyond.
Last year I had the opportunity to plan and participate in the first entrepreneurship-driven roundtable hosted by the Center for Hospitality Research. The event engaged a diverse group of students, alumni, and entrepreneurs and was a tremendous success. I was excited to help with the planning of two more entrepreneurship-driven roundtables for this school year—the Food and Beverage Entrepreneurship Roundtable in the fall and the Technology Entrepreneurship Roundtable in the spring.
I love that I have been able to grow alongside the entrepreneurship program during my time at SHA. Taking the Pillsbury sponsored course Conversations with Entrepreneurs was one of the deciding factors that made me transfer into SHA. Now, I have the opportunity to be a Lead Teaching Assistant for the course. Also, when I began at SHA, I loved attending networking events at the institute; now I am helping to grow the Entrepreneurs in Residence program by engaging a diverse number of entrepreneurs.
I will graduate this spring, and I am excited to be able to remain in the wonderful community at the Pillsbury Institute as a young alumna. I have already met so many successful and inspiring entrepreneurs through the institute, and I am excited to continue meeting more as our network continues to grow!
I welcome everyone to become engaged. 
-Kelly McDarby '16