The 12th Edition of the Innovation Network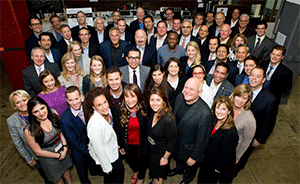 In January, the twelfth edition of the Innovation Network took place at HUB LA in arts district of Los Angeles. This intimate event brought together SHA students with forty of the hotel industry's senior executives to discuss innovation and the use of co-working space in the hospitality industry. Additionally, the group was able to hear how hospitality is encroaching on the space industry and hear directly from a retired astronaut who is working on bringing travel to outer space.
Additionally, IN attendees learned about how the hospitality industry is encroaching on the space industry. Former NASA astronaut Garrett Reisman of Space Exploration Technologies (SpaceX) spoke to the group about how the company is currently developing a family of launch vehicles and spacecrafts that will increase the reliability and performance of space transportation, while reducing costs drastically. In addition, they have joined forces with Bigelow Aerospace who will provide space habitats for future SpaceX travelers. Be sure to check out photos of this year's event on the Pillsbury Institute's website.