Meet the Pillsbury E-Team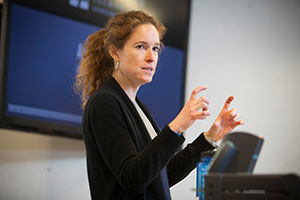 Meet Susan S. Fleming, PhD, an educator, researcher, businesswoman and mother with deep experience and expertise in the areas of finance, insurance, business strategy, organizational behavior and issues of gender diversity.
Susan is a Senior Lecturer and a core part of the Entrepreneurship faculty at the School of Hotel Administration. Upon joining the Hotel School in 2010, she introduced our core courses on Entrepreneurial Management and Entrepreneurial Finance. Soon after, she helped to design and launch the Cornell Hospitality Business Plan Competition, for which she continues to act as Faculty Chair. In addition to classes in entrepreneurship, Susan also teaches courses on Women in Leadership.  Outside of the classroom, Susan – like all of our entrepreneurship faculty – can frequently be found advising current and former students who are pursuing their passion for entrepreneurship by starting their own companies.  More recently Susan has become involved in helping to build and grow the entrepreneurial eco-system in Upstate New York, joining UNY50 network of successful entrepreneurs, investors and business leaders with this mission.
Susan began her career on Wall Street, where over a period of twelve years she held various positions in the investment community, including that of Analyst at Morgan Stanley & Co., Vice President of Insurance Partners, L.P., a $540 million private equity fund and Partner at Capital Z Financial Services Partners, a $1.85B private equity fund.
After retiring from Wall Street in 2003, Susan began work as an educator, teaching executives, investment professionals, MBAs and undergraduates in the areas of corporate finance, insurance, valuation, and gender bias. She also enrolled at Cornell University's Johnson Graduate School of Management to pursue a Ph.D. in Management where her research focused on better understanding the factors contributing to a dearth of women in leadership positions in U.S. society. In addition to her work at Cornell, Susan helped to found a start-up company in Ithaca, NY; has previously served on the board of directors of four publicly traded insurance and reinsurance companies, two private companies and three non-profit organizations; and currently serves on the board of Virtus Investment Partners, Inc., a publicly traded asset management firm; and Endurance Specialty Holdings, Ltd., a publicly traded global insurance and reinsurance holding company.
She has been published in the Cornell Hospitality Quarterly, Psychology of Women Quarterly, and Cornell Hospitality Reports, and holds a BA in Economics and Asian Studies (Highest Distinction) from the University of Virginia and an M.S. and PhD in Management from Cornell University.