Student Life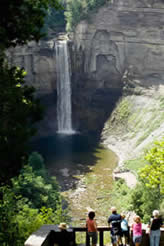 Living in Ithaca is an added benefit to being an MMH student. The famous motto—"Ithaca is gorges"—highlights Ithaca's natural beauty, which many come here to enjoy. Ithaca has become a city conducive not only to study, but also to socializing and networking. Ithaca is part of the Finger Lakes Region of New York, which was formed by glaciers more than 12,000 years ago. As a result of these glaciers, two sides of the Cornell campus are bounded by deep gorges, creating unique and breathtaking beauty. No matter where you are on campus, you are never far from the sight and sound of waterfalls. The campus sits on a hilltop overlooking 40-mile-long, 400-foot-deep Cayuga Lake, the largest of the Finger Lakes. You'll experience four distinct seasons during your year in Ithaca, each with its own unique beauty, offering numerous outdoor and cultural activities.
The city of Ithaca and its surrounding residential areas have a population of approximately 100,000. There is an impressive array of bookstores, movie houses, specialty stores, nightspots, and restaurants, offering delicious ethnic cuisines ranging from Mexican to Thai to Greek to Italian, and just about everything in between. Best-known area attractions include the Ithaca Farmers Market, Ithaca Commons, and local wineries.
Cornell is consistently recognized in rankings ranging from best value to the "coolest" school. The university's Campus Life Housing Office has information available on graduate and professional student housing as well as an off-campus-living resource. They offer on-campus housing that is limited to graduate students, including family housing. Accommodations vary in size and location and include co-op residences, furnished studios, single rooms, and one- and two-bedroom apartments. Non-university housing includes apartment complexes, multi-unit houses, single-unit houses, individual rooms, and co-op living units. Much off-campus housing is within walking distance of campus and is served by Tompkins County's extensive TCAT public transportation system.
Cornell's campus itself offers students many cultural, educational, and social activities, from yearly traditions such as Dragon Day and Slope Day, to the social hub for graduate students, the Big Red Barn, to the many events for the campus and surrounding community.
As an MMH student, you are part of the Cornell Graduate School community. The Graduate School represents Cornell's intellectual diversity, awarding graduate degrees in 96 major fields and 16 minor fields of study. Many community events for graduate students are hosted at the Big Red Barn. This facility offers an environment where students and faculty members can meet informally and relax. Programs promoting social, cultural, and intellectual exchange are scheduled at the Big Red Barn throughout the year.
Cornell Health provides a variety of services to all Cornell students. The medical and support staff provide responsive, convenient, and high-quality medical, emergency, and psychological services to the student community.