Visit Us
Plan a visit to see why the world's most creative and accomplished hospitality leaders choose the School of Hotel Administration (SHA) to propel their careers. Immerse yourself in the culture of a storied Ivy League university, and see for yourself how, for more than 90 years, the Hotel School has continued to break new ground in the largest and most dynamic global industry.
We are located on the Cornell University campus in picturesque Ithaca, New York, consistently ranked as one of the best college towns in America. Are you ready to see where your career will take you?
Lunch with a Current MMH Student
Do you want to know what it's really like to be an MMH student? If you plan to visit campus, consider grabbing lunch with a current student. To request a lunch, please send an email at least two weeks before you plan to arrive, and don't forget to include the day you'd like to visit! We will follow up when lunch is confirmed.
Admissions Individual Appointment and Class Visits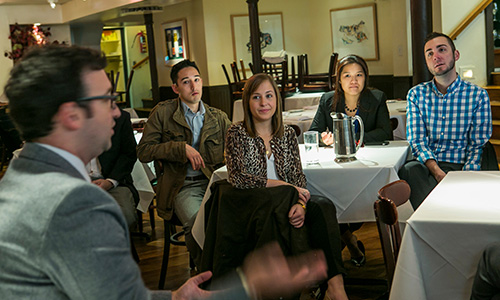 Meet one-on-one with an admissions team member to find out more about the MMH program and learn how a graduate education at SHA can set you apart from the crowd.
If you're interested in attending an MMH class during your campus visit, email our office at least two weeks prior to your visit and we'll help coordinate.
Please note, classes are not in session during the summer term. We can support a class visit and lunch with a current student during the fall or spring academic semester. Please consult the Cornell University Academic Calendar before selecting a visit date.
Cornell University Itinerary Builder
Plan your visit to Cornell through our interactive tool. Browse information sessions, tours, activities, attractions, and campus events, and add them to a personalized itinerary. Registration is required.
Admissions Office
289 Statler Hall
Ithaca, NY 14853
Hours:
Mon-Thurs, 8:00 a.m.-4:30 p.m.
Fri, 8:00 a.m.-3:30 p.m.
Phone:
607.254.4228