2009 Cornell International Real Estate Case Competition
Cornell Team Wins Real Estate Case Competition
Ithaca, NY, November 23, 2009
Josh Barvin '10, Andrew Gindy '11, Taylor Quan '10, Zied Sanhaji '10, Amy Shyr '10, and Li Zhang '10 competed for Cornell, with Christopher Marshall '11 as alternate. All are students in Cornell's new minor in real estate. The team was coached by Judi Brownell, professor of organizational communication, and Dan Quan, Cornell's Singapore Tourism Board Professor of Real Estate Finance in the School of Hotel Administration. Daniel Lebret, visiting assistant professor of real estate finance, and Crocker Liu, the Robert A. Beck Professor of Hospitality Financial Management, also advised the team.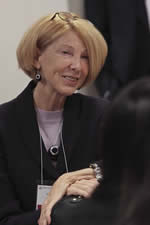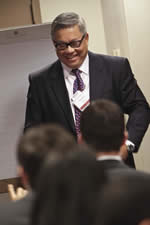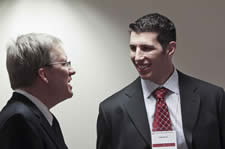 Each team had four days to analyze a case developed by Peng-Wei Tan, a private equity analyst for AREA Property Partners. The assignment was to present a strategy to salvage a cash-strapped portfolio of debt-ridden investments. The 20-minute presentations were followed by 20 minutes of sometimes withering questioning from the judges, all seasoned performers with prominent commercial real estate firms. The teams competed as fictional advisory firms in order to keep the judging blind.
"I think that this competition is great," said Gindy while awaiting the judges' decision between rounds, "because it utilizes all of the skills that we've learned in the classroom and outside of the classroom. Finance, accounting, real estate, managerial communication, marketing—it encompasses everything. But the biggest thing is teamwork."
Judges for the competition were: Todd Giannoble '95, president, Archon Hospitality; Sally Gordon, managing director, BlackRock; Jeffrey Hertz, director, the Praedium Group; David Lynn, MRP '88, managing director, ING Clarion Partners; Catherine Marcus, managing director, Prudential Real Estate Investors; Martha Peyton, managing director, TIAA-CREF; Francis Tansey, co-founder and president, DRA Advisors; Steve Vittorio, managing director, Prudential Real Estate Investors; Steven Wolf, associate and head of U.S. portfolio management, AREA Property Partners; and Martin Kandrac, managing director, The Blackstone Group.
This first annual competition was organized by the Center for Real Estate Finance at the Cornell School of Hotel Administration. David and Jill Korr, parents of Jonathan Korr '09, were principal sponsors of the event. Other sponsors were Archon/Goldman Sachs, AREA Property Partners, BlackRock, ING Clarion, National Realty & Development Corp., Prudential, and TIAA-CREF.
Prize Money
The winning team will receive $4000 and the runner‐up will receive $2000.