Retail Real Estate Case Competition
---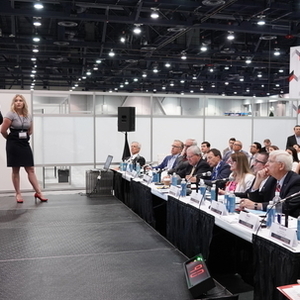 The Retail Real Estate Case Competition is held annually, and takes place during RECon, the world's largest retail real estate convention. The invitation-only competition welcomes undergraduate teams comprised of four students each from the top university real estate programs. Based on an actual business transaction, each of the teams will be presented with a real estate case study. Teams will have five days for case analysis and preparation prior to a presentation period where teams will showcase their final recommendations to a select panel of real estate industry judges. The winning team will receive a grand prize in the amount of $10,000. This intense competition provides an opportunity for students to practice the skills they have learned in the classroom and showcase their talents to the leaders of the industry.
The Fifth Annual ICSC & Cornell International Retail Real Estate Case Competition. The Cornell Center for Real Estate and Finance (CREF) and the International Council of Shopping Centers (ICSC) are joining to host this year's competition being held on May 17-19, 2020 in Las Vegas, Nevada.
The list of 2019 participating teams included: Cornell University, Florida State University, Indiana University, New York University, Ohio State University, University of Colorado, University of Connecticut, University of Guelph, University of Pennsylvania-The Wharton School, University of Queensland, University of Texas at Austin, and University of Wisconsin at Madison. More information on this year's event to come at a later date.

Past Retail Real Estate Case Competitions