Cornell Real Estate Case Competition Goes Global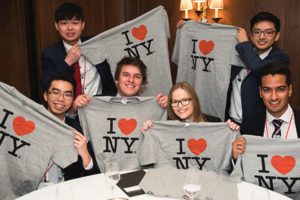 Over the past nine years, the Cornell International Real Estate Case Competitionhas grown from hosting six teams in its humble beginning to nearly 30 teams this past year.
The invitation-only competition, hosted by the Center for Real Estate and Finance (CREF), is held annually in November. The event welcomes student teams from around the globe to New York City to compete for the top prize of $10,000.
In the past two years, the competition has expanded to include regional events in international locations. In October, the center hosted the inaugural Cornell Regional Real Estate Competition, UK/Europe. The event was held at the Four Seasons Park Lane, where the winners were gifted "I Heart NY" t-shirts in celebration of their success. The University of Sydney Business School hosted its second annual competition in September, hosting teams from Australia and New Zealand.
Preparations have been made for CREF and the Center for Hospitality and Real Estate Research (CHRER) at the Chinese University of Hong Kong to co-host the First Annual Cornell CUHK Regional Real Estate Competition, Asia, in fall 2018. This competition will take place on the campus of the Chinese University of Hong Kong. The top teams from each regional competition receive an automatic invitation and funds to support the cost of their travel to New York City. In total, nearly 50 student teams are able to participate in this unique educational opportunity.
The format of the competition is the same for all events:
Top real estate programs enter teams of six students to compete
Just five days before the event, the students are presented with a case study based upon an actual real estate business transaction.
The student teams work together to develop a 15-minute presentation summarizing their analysis of the case along with their investment recommendation.
Executive members of the real estate industry sit on the judges' panel.
The judges assess the thoroughness of the students' analysis during a grueling Q&A session after the presentation.
After a great deal of deliberation and careful consideration, the judges declare a winner.
Professor Dan Quan, the creator and chair of the competition, envisions future growth of the competition moving forward. Discussions are underway to expand the regional events to include Canada as well.