China Initiative in Real Estate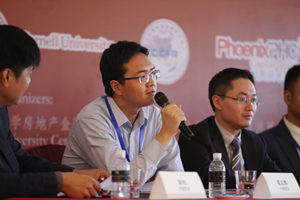 The real estate industry in China is evolving from being dominated by residential development to focusing on commercial real estate investment and financing. As the world leader in research and education on commercial real estate investment, securitization and financing, and cross-border M&A, the Center for Real Estate and Finance at Cornell University (CREF) is leading the efforts to expand Cornell's presence within the Chinese real estate industry.
One aspect of this leadership is an annual forum hosted by the center in August 2016 that brought together some 160 industry leaders, real estate scholars, and policy makers to present current research and to stimulate the exchange of new developments. The theme of the 2016 forum was Global Asset Allocation and Securitization.
Held on August 12, 2016, in Shanghai The fourth Center for Real Estate and Finance China Forum was jointly organized by CREF's China Advisory Committee and Tsinghua University's China Center for Financial Research. Sponsored by Phoenix Capital Group, the event returned to the Waldorf Astoria Shanghai on the Bund for a second year. The 2016 forum focused on asset securitization, cross-border investment and global asset allocation, and commercial real estate.
Participants included many high-profile business professionals in the real estate and finance industry. Among them were many Cornell and Tsinghua University alumni.
Conference Chair:
•    Peng Liu, Singapore Tourism Board Distinguished professor, Cornell University
Participants:
•    Chao Bian, Head of Securitization Products, Shenzhen Security Exchange
•    Terrence Chan, Managing Partner, Bridge Capital
•    Changchun Chen, Vice President of the Gemdale Group, and Chairman of the Wins Investment
•    Chi Chen, General Manager, Shenghua Investment
•    Henry Chen, Managing Director, Phoenix Capital Group and secretary General, Hospitality Asset Managers Association (HAMA) China
•    Stephen Chen, Managing Director, Infinity Global Real Estate Advisors
•    Weiwei Chen, Director, China Union Communications Research Institute
•    Jianghua Gang, Executive Director, Center for Investment and Real Estate, Renmin University
•    Tianshu Han, Director, Real Estate Investment, Gold Emperor
•    Allen He, Partner and Managing Director, Cindat Capital Management
•    Ping He, Director, China Center for Financial Research, Tsinghua University
•    Ruirao He, Head of Securitization Products, Shanghai Security Exchange
•    John Ho, CEO, Landsea Group US division
•    Zhouqi Jia, General Manager China International Capital Corporation – Fixed Income Division
•    Christine lp, President, United Overseas Bank Greater China
•    Jie Li, MPS RE '01, Managing Director of JLL Wuhan, Head of Strategic Consulting, China
•    Xihai Li, MMH '13, Manager, Investment, Jinmao group
•    Chang Liu, General Manager, Capital Development Investment Fund Management
•    Long Liu, Manager of Direct Investment, Pacific Life Insurance
•    Terrence Loh, SHA '97, MBA '06, Executive Director, CDH investments
•    Yan Lv, Partner, SG&CO Law Firm
•    Zhiwei Ma, General Manager, Beijing Borunyintai Investment Management
•    Dongxu Ren, President, China Rating Co.
•    Jun Shui, Vice President, Q Fang Group
•    Shirlene Song, A&S '02, Director, The Carlyle Group, Global alternative asset management
•    Hujun Tang, Managing Director, China Investment Group – Asset Allocation Division
•    Justin Wai, SHA'06, Principal, The Blackstone Group
•    Fan Wang, General Manager, Shoujin Alliance Capital
•    Guohua (Annie) Wu, JD '01, Senior Partner, JT&N Law Firm
•    Jianhua Wu, Chairman, Da Hua Certified Public Accountants
•    Yang Xia, Deputy General Manager, Orient Minerva Asset Management
•    Chan Yang, Senior Manager, Fosun Group
•    Jichuan Yang, CEO, Sunshine Insurance Group – Internet Finance Division
•    Robert Young, President, Jiade Phoenix Asset Management
•    Hongchang Zhang, Senior VP, Dingxin Changcheng Fund
•    Lei Zhang, Managing Director, CITIC Private Equity Funds Management
•    Mingeng Zhang, Chairman, Grand China Fund
•    Qiao Zhang, Director, China RE Asset Management – Alternative Investment
•    Bin Zhong, Secretary General, China Real Estate Chamber of Commerce
•    Daixi Zhou, Deputy General Manager, Orient Securities Asset Management
•    Yisheng Zhou, Executive Partner, Go High Fund