Hotelie Coley Brenan Credits Cornell Education for Foundation of his Career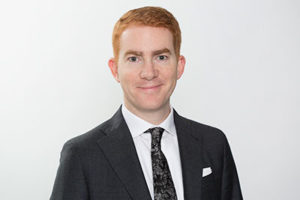 Fifteen years after graduating from the School of Hotel Administration, Coley Brenan still uses the core fundamentals of courses he took there as an undergraduate. Brenan, who is a principal of KSL Capital Partners, leads the firm's London office in expanding the firm's footprint in Europe. KSL is a private equity fund that focuses on investing in travel and leisure businesses and supporting the management teams that operate those businesses. Brenan emphasizes the "operationally intensive" nature of KSL's business model, explaining that the firm supports or assembles a management team that will operate the newly acquired business according to the firm's investment thesis.
The son of a hotel manager, Brenan explained that he was "surrounded by the business" as he grew up, moving from place to place as his father was transferred to a new hotel. "I loved the service components of the business, and I planned to enter the industry on the operations side," he recalled. Having gained considerable operations experience working at country clubs, Brenan planned to study operations at Cornell. Indeed, he was involved with the Club Managers Association of America (CMAA) as a student and had a leadership position with that club.
"However, I started taking the core courses at the School of Hotel Administration, and I found that the real estate and finance courses resonated with me more than the operations courses did," he said. The summer of his sophomore year, Brenan took an internship with the Boston office of the firm now known as Avalon Bay, a large, upscale apartment owner-operator. During his time there, the Avalon and Bay firms merged. "I worked in sales and marketing, but what was really exciting was the work that went into the merger. I was involved in doing market studies and pricing analyses. That was particularly interesting," he said.
From his time at Avalon Bay, Brenan moved on to a role at Boston Financial, where he learned how to finance properties and structure joint ventures. He viewed the merger and acquisition activities as a good learning experience.
Brenan's first job after graduating from the School of Hotel Administration was with Deutsche Bank, where he learned a different side of the real estate business, investment banking. After five years in New York with Deutsche Bank, he signed on with KSL.
As fate would have it, KSL was in the process of acquiring Club Corp, the well-known operator of numerous country clubs. Brenan's long-ago experience as a club employee stood him in good stead. "This was my first big deal," he recalled. "This is an awesome business, a membership, dues-based operation of family-oriented clubs. Not super upscale, but excellent clubs with solid operations."
Brenan emphasizes that his Cornell education has been the foundation of his career. "The education I received at the School of Hotel Administration was exactly on target with the core fundamental courses, including real estate law, finance, and other graduate-level courses that I could take as an undergraduate," he said. "I have many friends who went to excellent business schools, but their education was more general. The School of Hotel Administration relates directly to hospitality finance and real estate. All the courses were based directly on hotels and that education goes directly to my job today. There's no match for the hospitality industry. It's very powerful and unique."
Brenan's current assignment is to develop KSL's European presence by building a team from his base in London. "London is an easy place to live as an expatriate," he observes. "The business protocols are reasonably similar to what I was used to in the United States, although I do see different cultural aspects that are sometimes unexpected."
Even in London, Brenan finds the Cornell alumni connection to be strong and helpful. "As a student, I had a group of close friends who now have similar jobs and roles as mine," he explained. "The alumni community in investing is exceptionally strong. I can test ideas even with my competitors—we help each other out now as we did back at Cornell." He finds London to be a good location for the alumni connection, just as it is a major financial center.
In closing, Brenan noted that his real estate and finance professors were instrumental in helping him and his classmates learn the fundamentals of the business. "I want to note Professors (Jack) Corgel, (Jan) deRoos, and (Dan) Quan," he said. "They inspired us to take those extra challenging courses. Even though they were tough, we had a phenomenal education, and a good time as well."