Alan Tantleff '87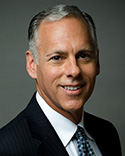 ALAN TANTLEFF '87
Senior Managing Director – Corporate Finance/Restructuring
Practice Leader, Hospitality Gaming and Leisure
FTI Consulting
Alan N. Tantleff is senior managing director, corporate finance, and restructuring practice leader, hospitality gaming and leisure for FTI Consulting. A respected hospitality industry and real estate professional with 25 years of diverse, hands-on experience in areas of lodging, gaming, and real estate investment and development, as leader of FTI Consulting's global hospitality gaming and leisure practice, he assists high-profile clients with the challenges they face in the fast-moving and dynamic hospitality industry.
Active in various segments of the hospitality industry throughout his career, Tantleff applies his broad background and experience in hospitality to a wide variety of engagements with a particular focus on strategy, business process improvement, IPO preparedness, investment banking and transactional support, and workouts and financial restructurings. Tantleff has advised boards of directors, CEOs, lenders, borrowers, and other stakeholders on numerous high-profile hospitality matters.
Alan Tantleff began his career at the Sands Casino Hotel in Atlantic City as the senior operations analyst responsible for the profitable operation of the casino-hotel. Shortly after that, he was recruited to manage the $2 billion hospitality portfolio of The Prudential Insurance Company of America, the nation's largest institutional owner of hotels. In this capacity, he oversaw all phases of Prudential's investment strategy; as liaison with managers, partners and investors; handling acquisitions, dispositions, and due diligence; and as an asset manager. After executing a number of private and public market transactions for the insurer, Tantleff joined Jones Lang LaSalle Hotels as the leader of the New York office, where he led the brokerage group's most active practice and initiated the company's foray into asset management. At JLL, he was a founding member of the International Capital Committee, which matched international capital with opportunities globally. At the onset of the financial crisis, he joined BlackRock Financial Services, leading the efforts in restructuring the hospitality component of the financial manager's $6 billion sub-debt portfolio. He also held senior management positions at Hotel Asset Value Enhancement and Granite Partners (Savilles).
Tantleff has earned numerous awards and accolades throughout his career, including Real Estate New York's Top "40 under 40" influential people in real estate and RealShare New York's "Commercial Broker All-Stars." Recently, he was named to Turnaround and Workout Magazine's "People to Watch," and National Real Estate Investor named him "Exit Strategy Guru" in an article about the timely disposition of hotel assets. He has penned numerous articles in various trade and industry publications and is a frequent speaker at industry events.
He holds a Bachelor of Science in hotel management from the Cornell Peter and Stephanie Nolan School of Hotel Administration and a Master of Science in real estate investment and development from New York University.
Tantleff is an advisory board member of Checked-In, an app to assist travelers connect with their network when traveling, and is the secretary of the board of directors of Tzahal Shalom. He is the former representative and board member of the Cornell Alumni Federation where he represented the Cornell Nolan School in university affairs.