Greg Dollarhyde '80, MBA '81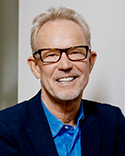 Greg Dollarhyde '80, MBA '81
Greg Dollarhyde '80, MBA '81 is a successful, multi-decade veteran of the restaurant industry, and one of the pioneers of the fast-casual segment. Executive chairman or chief executive officer of eight companies as well as former chief financial officer of two publicly held restaurant companies, Dollarhyde has built teams and led rapid-growth enterprises to terminal valuations of well over 1 billion dollars. He has been recognized on the Nation's Restaurant News Power List of top 50 people for both 2014 and 2015, as well as having received the Elliot Mentor Award in 2015.
Currently, Dollarhyde is the executive chairman of Zoe's Kitchen (NYSE: ZOES), a publicly held, 200-plus fast-casual restaurant chain based in DFW and acquired in 2007 with equity partner Brentwood Associates. Dollarhyde was CEO of Zoe's from 2008 until handing over the reins to his COO, Kevin Miles, in 2011 and taking the company public as executive chairman in 2014. Dollarhyde is also a director and the former chief energizing officer of the Veggie Grill, a Santa Monica-based chain of 28 fast-casual restaurants. Dollarhyde turned over the CEO job to his COO in May, 2016 and has led in the raising of more than 50 million dollars in growth capital during his tenure there. Additionally, Greg recently joined the board of Pasadena-based Blaze Pizza.
Before these endeavors, Dollarhyde was the CEO of Fresh Enterprises, the holding company of Baja Fresh, a rapid-growth, fast-casual, fresh Mexican food chain. Dollarhyde, in equity partnership with Catterton Partners and Oak Investors, purchased the company in 1998, and after spurring accelerated growth exceeding 40 percent CAGR, sold the company to Wendy's International for $285 million, more than seven times the original investment.
Pursuing other entrepreneurial ventures in 2005, Dollarhyde was lead angel investor and former chairman of the board of Riot Games, an early-stage MMORPG video-game-development company that was subsequently acquired by China-based holding company Tencent, which is now a multi-billion-dollar enterprise. Dollarhyde is also a founding principal and advisory board member of b Cellars, an emerging Oakville winery specializing in Napa Valley appellation blends.
Having recently retired from the day-to-day CEO roles, Dollarhyde is an investor and liaison to private equity funds, and seeks to support, counsel, and invest in entrepreneurs seeking their American capitalist dream.
Dollarhyde has been an alumnus of restaurant concepts that are household names, such as TGI Fridays (CFO, initial public offering 1983), Pizza Hut (VP new concepts, VP acquisitions), and Kenny Roger's Roasters (executive VP and vice chairman). Additionally, he has led regional favorites Rusty Pelican Restaurants (CEO 1990 and CFO 1987) and Country Harvest Buffets (CEO 1995), stewarding the sale of both of these companies to industry competitors.
Dollarhyde is a graduate of Cornell University's School of Hotel Administration (BS with distinction, 1980) and the Samuel Curtis Johnson Graduate School of Management (MBA, 1981), is on the advisory board of the Leland C. and Mary M. Pillsbury Institute for Hospitality Entrepreneurship at the Hotel School, and established the Dollarhyde Family Giving Fund at the school.