Speaker: Zachary Shapiro '05, Director of Operations Reliability, Integrated Operations Center
American Airlines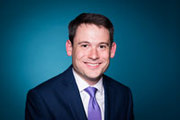 American Airlines has been a pioneer in the airline industry since its first flight in 1936. Today, American Airlines and American Eagle offer an average of nearly 6,700 flights per day to nearly 350 destinations in more than 50 countries. American has hubs in Charlotte, Chicago, Dallas/Fort Worth, Los Angeles, Miami, New York, Philadelphia, Phoenix, and Washington, D.C. American is a founding member of the oneworld® alliance, whose members serve more than 1,000 destinations with about 14,250 daily flights to over 150 countries.
Mr. Zachary Shapiro has diverse professional experience in the airline industry, having worked with Airbus, SkyWorks Holdings (a boutique aviation advisory fim), and JetBlue Airways in marketing, sales, strategy, operations, and revenue management. He is currently the Director of Operations Reliability at American Airlines' Integrated Operations Center. He works with the airline's various operational and commercial planning teams to develop a feedback loop between the "future planning" and "day of" phases of airline operations, raising awareness to, and driving change around, structural issues that challenge the airline's ability to reliably operate its flight schedule.
Mr. Shapiro is a graduate of the School of Hotel Administration class of 2005 and proudly served as the Dean's Assistant his senior year. He also holds an MBA from the Wharton School at the University of Pennsylvania.