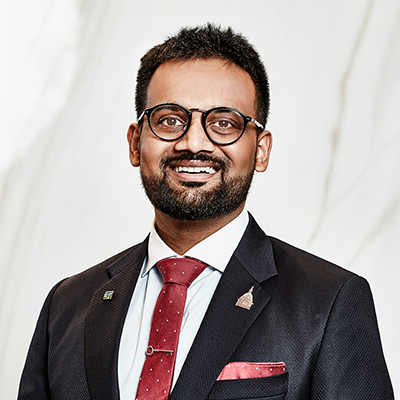 Neal Patel
Past Chair (2022-2023)
AAHOA
Cornell Nolan School affiliations:
Neal Patel serves as the Immediate Past Chairman of AAHOA, the voice of nearly 20,000 hotel owners who own 60% of the hotels in the U.S., which translates to more
than 34,000 properties.
He became an AAHOA Member in 2012 and soon volunteered as an Ambassador. Neal joined AAHOA's board of directors in 2016 after being elected as the Young
Professional Director Western Division, a position he held for three years. Neal is the youngest Chairman in AAHOA's history.
Patel is a second-generation hotelier who grew up in the industry wearing many hats as he helped his family run their first 20-room independent property. He began his
hospitality career in Texas and owns and operates branded and independent hotels in several states.
Neal is inspired to give back to the hospitality industry through service. He has served on a franchise advisory council, he currently serves on the HITEC Advisory Council, and promotes organ donor awareness through his volunteer work with Samaj Saves Lives.