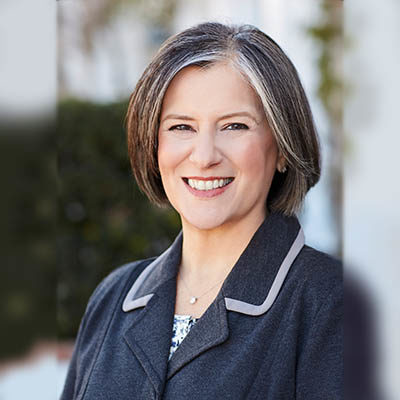 Michelle Woodley '89
Cornell Nolan School affiliations:
Michelle Woodley is President of Preferred Hotels & Resorts. In this role, she oversees multiple departments across the company including sales, marketing, IT, revenue management, and customer relations. She also works closely with CEO Lindsey Ueberroth on financial planning and talent management, supports the development of other strategic areas of focus within the organization, and serves as a company spokesperson.
During her 15 years with the company, Michelle has held various leadership positions with cross-functional responsibilities including Senior Vice President of Global Marketing Strategy, Senior Vice President of Distribution & Revenue Management, and Executive Vice President, the role she held prior to her promotion to President in January 2018. She has used her expertise to help the company successfully execute on major global initiatives designed to foster longevity of the Preferred brand such as two comprehensive rebranding initiatives, the launch of multiple brand websites, the introduction and institutionalization of a Revenue Management Certification Program, the technology conversion of the company's global central reservation system and call center services, and the creation of the I Prefer Hotel Rewards program. In 2018, several months after she was named President, she received recognition by Hotel Management as one of the most influential women in hospitality.
Before joining Preferred Hotels & Resorts in 2002, Michelle spent five years as Vice President of Distribution for Swissôtel and Raffles Hotels & Resorts, charged with overseeing the strategic direction and operations of the company's electronic distribution and database solutions. She held various senior positions in operations, marketing, and distribution with Swissôtel from 1990 to 1997.
Michelle has been an active board member in industry organizations throughout her career. She is currently on the Americas Board of Directors of the Hospitality Sales & Marketing Association International (HSMAI), and also serves on the Board of the HSMAI Foundation. She served two terms as president and two terms as vice president of the Hotel Electronic Distribution Network Association (HEDNA), and she was a founding member of the Open Travel Alliance (OTA) and served two terms on their board of directors as treasurer.
Michelle is a graduate of the Cornell University School of Hotel Administration. She is based in Chicago with her husband and two sons.