Hospitality Business Plan Competition Final Presentations
March 14, 2020 @ 2:00 pm

-

7:00 pm

EDT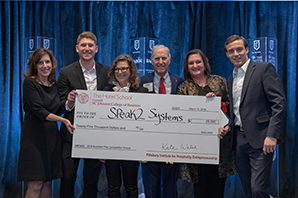 Come and support your friends and fellow students on Saturday during HEC weekend at the Business Plan Competition. Five teams will be competing for the first-place prize!
The Hospitality Business Plan Competition provides an experiential learning opportunity to rising entrepreneurs looking to make their mark on the hospitality industry. The competition kicks off at the start of the academic year and culminates in early spring with the submission of final business plans and group presentations. The winners are announced during Hotel Ezra Cornell. Cash prizes over $35,000 are awarded to the top three teams!

Congratulations to the top 5 teams that have made it to the final round of the Cornell Hospitality Business Plan Competition!
Dream Haüs
Dream Haüs is a platform that incorporates homebuyers' tastes and preferences through a visual search to save realtors and home-buyers time and money.
Team members:
Chris Gartrell '20 (SHA)
Oren Michaely '20 (Eng)
farmVal
farmVal makes the process of growing wine smarter, more efficient, and more reliable through a combination of Cornell PhD patented research, machine learning, and industry expertise.
Team members:
Ashley Bacalso MILR '20
Shiang-Wan Chin MEng '19, PhD '22
Tamara Sato '22 (SHA)
Matte Black Lounges
Matte Black Lounges is focused on bringing modern airport lounges to currently underserved, mid-market, domestic airports.
Team members:
Shucen Ding MMH '20
Yi Xuan Huang '20 (SHA)
Lyon Li '23 (SHA)
Gabe Trumbo MBA '21
PediCure
PediCure is a toenail trimmer that empowers elderly adults to reclaim independence in their grooming experience. Our device is to be sold to caretakers.
Team members:
Jordan Gorelick MEng '20
Bryan Hyland '21 (SHA)
Jialin Ke '20 (HumEc)
Jessica Tao '20 (CALS)
Joshua Zhu '20 (CALS)
LayOP
LayOP aims to leverage analytics tools and big data to help hospitality property managers and employees make informed decisions to optimize their service and increase revenue.
Team members:
Armaan Goyal '22 (SHA)
Aditya Narayanan '21 (A&S)
Ananth Palaniappan '21 (Eng)
Abhinav Prasad '21 (A&S)
Special thanks to our sponsors:
Title Sponsor
Platinum Sponsors
Bob Alter Family
Stanley Sun '00 (SHA), MBA '05
Silver Sponsors
Barbara Foote Shingleton '75 (SHA)
Elizabeth Shingleton Glomsrud '00 (SHA)
Related Events