FOOD HACKATHON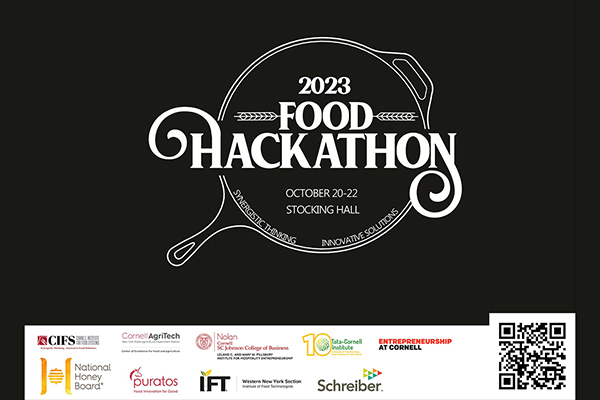 FOOD HACKATHON
October 20-22, 2023 | Stocking Hall (Dairy Bar)
Waste Reduction, Food Safety, Upcycling, Food Innovation, Food Products, Manufacturing, Shelf Stability, Nutrition, you decide what to focus on. Projects can be very technical or not at all technical. Maybe a new food product, and new system, service, app, business model, hardware, etc.
Please check out the FAQs on the website (no over nights, all free, how we help you find a team, an idea, etc.)
The hackathons is inclusive of everyone, psychological safety is of utmost importance, and everyone has a place at our events. All students in all fields of study are encouraged to participate in this competition, which is also a 'coopetition.'
This event has broad appeal and offers a unique opportunity to work side-by-side with peers in food, ag, nutrition, hospitality, health, tech, business, data, operations, engineering, and more.
Industry mentors are present in person providing feedback to student teams.
📅 Event runs Friday 5-9:30pm, Saturday 9am-~9pm, and Sunday 9am-3:30pm
🌮Food, 🎁 merch, and 🤝mentorship provided. $10,000 cash prizes.  You bring the creativity and energy.
Still unsure? View our Hackathon Video series to experience our hackathon model in mere minutes!  Additional videos of each hackathon are available on this playlist
This is a fun and inter-disciplinary event meant to provide you real-life experience in forming teams, pitching ideas, problem-solving, public speaking, and networking. All in an environment with tons of support and resources. (Good food, professional mentors, faculty, staff and more all at the ready to support and assist)
Related Events