CIHLER: Furloughed employees - getting it right; a webinar with Beekeeper
April 23, 2020 @ 11:30 am

-

1:00 pm

EDT

Free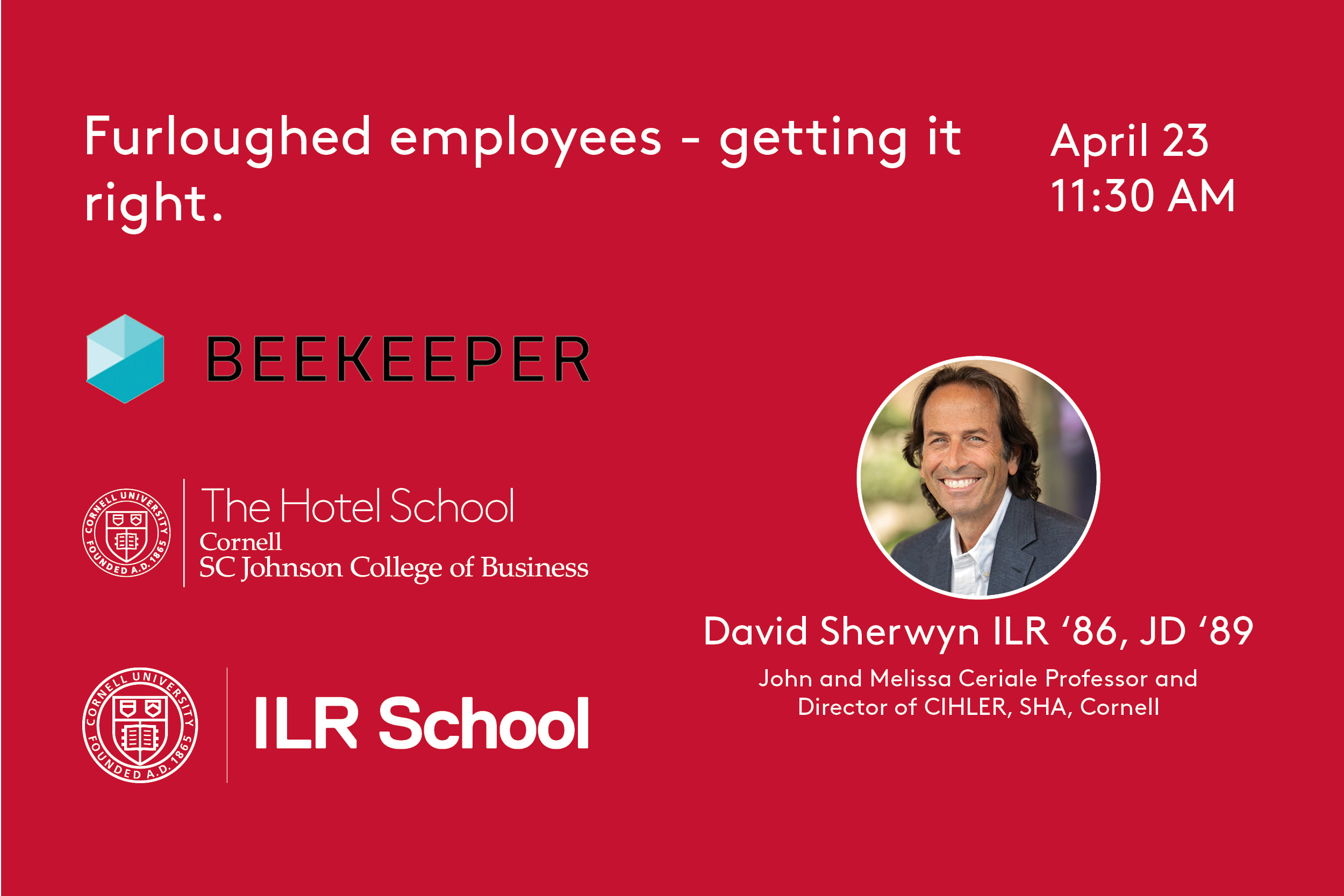 This is an unprecedented situation for the hospitality industry, where millions of hotel employees have been furloughed. Unprecedented for managers, who don't know how to best communicate with a remote workforce and keep them connected to the organization, so that when things start to turn around, they and their team are set for success. Unprecedented for the millions of employees, who are trying to navigate the current uncertainty, hungry for any piece of information that brings direction and for a support system to help them cope.
Our industry leaders will discuss the  unprecedented challenges that hospitality companies are facing when it comes to communicating and engaging with the furloughed employees. Can companies afford not to get this right?
Moderator:
David Sherwyn ILR '86, JD '89, John and Melissa Ceriale Professor of Hospitality Human Resources, Academic Director of the Cornell Center for Innovative Hospitality Labor and Employment Relations, Stephen H. Weiss Presidential Fellow
Speakers:
Sandy Gentles, Vice President – Talent Point at Marriott International
Andrada Paraschiv, Head of Hospitality at Beekeeper
Efrat Schulman, Partner, Jones Day

Sample questions:
Great messages from company leaders – how do you ensure everyone can see them? How do you communicate unemployment insurance benefits? How do furloughed employees stay in the know with what is going on at the hotel?
How about wage and hour? Does this still apply now that we have to contact employees off work?
What other challenges in addition to communication have you identified so far when it comes to furloughed employees?
Employees have started facebook groups – for the most part there are positive messages of group support. What is the risk here?
Disgruntled employees, who do not know how to make ends meet – is this a breeding ground for unions?
What will happen when things start to turn around and properties need to start planning for reopening/ramping up? What are some of the challenges you anticipate then?
Related Events