Adam Weissenberg '85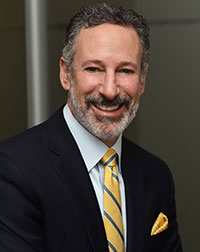 Adam Weissenberg '85
Global Transportation, Hospitality, and Services Leader National Managing Partner, Audit and Assurance Clients and Industries
Adam Weissenberg '85 is the global leader of the transportation, hospitality, and services (THS) segment at Deloitte Touche Tohmatsu Limited.
In his global role, Weissenberg is responsible for overseeing one of the largest global industry practices at Deloitte that includes more than 1,500 professionals. He heads the strategic direction, operational execution, and overall leadership of the THS industry. He actively serves as a senior advisor to many of Deloitte's largest Fortune 500 hospitality, gaming, and food-service clients. Weissenberg was also the lead client service partner to one of the firm's top 20 audit accounts, and is an advisory partner for several hospitality accounts.
Based in New York, Weissenberg is a preeminent spokesperson and author on travel and hospitality trends. He is quoted regularly in national publications, including the Wall Street Journal, the New York Times, USA Today, Forbes, Condé Nast, and Travel & Leisure. He has also been a guest on CNBC, Fox Business News, and Bloomberg.
With over 25 years in the THS marketplace, Weissenberg speaks frequently at national industry conferences and summits, including the World Travel & Tourism Council (WTTC), the Americas Lodging Investment Summit (ALIS), and the New York University International Hospitality Industry Investment Conference, where he serves on their steering committee. He is also a frequent speaker at the Cornell University School of Hotel Administration (SHA) and serves on the Center for Hospitality Research advisory board. In 2012, Weissenberg was named one of the Top 90 Influential Hotelies.
Outside of Deloitte, Weissenberg serves on the board and audit committee of UJA of New York and as chairman of the board and CEO of the Cancer Hope Network. He received a Bachelor of Science from Cornell University in hotel and restaurant administration, and a Master of Business Administration from Columbia University, where he majored in accounting and finance. He is married with two daughters and resides in Short Hills, New Jersey.