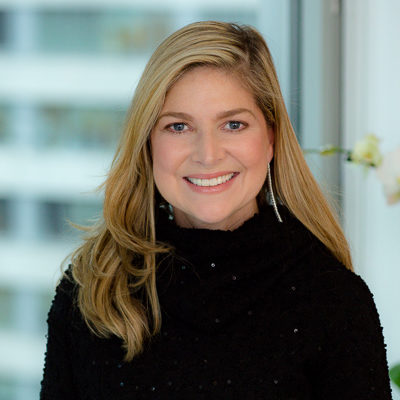 With more than 37 years of luxury travel experience, Stacy Fischer-Rosenthal has been instrumental in transforming the hospitality industry. She has dedicated her career to refining the Fischer Travel brand, which was founded by her father Bill Fischer. With a mantra of "Making the Impossible Possible" for their clients, she has set the bar for the travel industry. As a dynamic businesswoman, Stacy is involved in all aspects of running the company.
Driven by her passion and knowledge, Stacy recently launched Fischer-Rosenthal Consulting, which advises hotel owners, developers and management companies on how best to heighten their offerings and services.
She currently sits on the Advisory Boards of Aman Hotels, Resorts & Residences, Belmond Hotels & Resorts, Four Seasons Hotels & Resorts, Marriot International Luxury Brands (MILUX), Park Hyatt Hotels, Preferred Hotels & Resorts and Rosewood Hotels & Resorts. Her participation in an array of forums has her at the forefront when expertise is sought.
Stacy spoke on the Women in Hospitality Leadership Panel at the 88th Annual Hotel Ezra Cornell program and was a featured lecturer at the Cornell University Dean's Distinguished Lecture Series. She recently joined the Advisory Board of the Leland C. and Mary M. Pillsbury Institute for Hospitality Entrepreneurship (PIHE) at Cornell University. Also benefiting from her acumen is LaGuardia Community College, where she participated in their Pathways to Success/Speakers Series. Additional speaking honors have included the American Cancer Society's Taste of Hope Gala, where she was an award recipient. Other award highlights include the Breast Cancer & Survivorship in the 21st Century honor, and The Sass Foundation Lisa Cowan Memorial Award.
She, her husband Richard and their son Max, are actively involved with Ramapo for Children, and City Meals on Wheels. She also actively advocates for the NOMI Network. An eighteen-year breast cancer survivor, Stacy champions for Memorial Sloan-Kettering Cancer Center, the Susan G. Komen Foundation, The SASS Foundation and NYOH Community Cancer Foundation. She is an active Sponsor of AmericaShare, which is dedicated to helping the community of Mukuru, in Nairobi, Kenya.
Both Fischer Travel and Fischer-Rosenthal Consulting participate in the Cristo Rey Brooklyn High School Corporate Work Study Program and LaGuardia Community College, each dedicated to educated students in the workplace.
Stacy lives in Manhattan with her husband Richard Rosenthal.