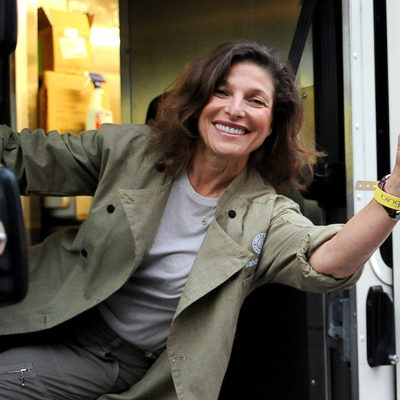 A dynamic entrepreneur recognized for innovation, philanthropy and cutting-edge research, Sandy Solmon is Founder, CEO and Chief Innovator of Sweet Street Desserts, the world's largest manufacturer of frozen gourmet desserts. With 700 employees worldwide, Sweet Street products are sold in 65 countries through all channels of foodservice—from casual to fine dining in cafés, restaurants, hotels and on-site management.
A pioneering and hands-on innovator, Sandy personally oversees an R&D staff including nine chefs and, indirectly, nine food scientists. Physically primed for innovation, Sweet Street's Reading, Pennsylvania headquarters includes a 300,000-square-foot, state-of-the-art facility where the equipment is on wheels, allowing the realignment of production lines at an hour's notice. The 7,000-square-footR&D kitchen features eight stream lined, creative work stations designed as incubators of invention for recipe developers and chefs. In 1994, the U.S. Copyright Office awarded Sweet Street Desserts the first-ever copyrights recognizing the design of food products.
Other recent innovations include savory product offerings, the construction of a second production facility in South Carolina,  the redesign and expansion of Café Sweet Street™, and the launch of the first Sweet Street Mobile Art Kitchen™ (M.A.K.™)—a collaboration of artists, videographers, chefs and bakers bringing American food to the streets of Paris.
A former New York Times photojournalist and modern-day Renaissance woman, Sandy thrives at the intersection of art, science, commerce and generosity. Her accolades include the 2014 Cornell University Hospitality Innovator Award; the Culinology Top Innovation Award by Research Chef's Association; Cognito's Best Foodservice New Product Award for Xangos; the Sysco Heritage Award; the Quality and Service Award from DOT Foods; the Sodexo Diverse Supplier of the Year; the Multi-Unit Foodservice Operators (MUFSO) Supplier Hall of Fame; and the Berks County Chamber of Commerce Large Business of the Year.
Driven by her passion for harnessing scientific discovery for the advancement of humanity, Sandy also serves as CEO and lead venture investor of Celavie Biosciences, Inc., a human therapeutic company dedicated to developing treatments and a cure for Parkinson's Disease. Recently embarking on human trials, Celavie has patents pending on methods of culturing and expanding human stem cells for biomedical research.
Known for her provocative ideas and advocacy of success borne of sweetness, Sandy inspires fresh approaches to leadership and collaboration. This year, she will address the graduating class of and receive an honorary doctorate from Alvernia College, deliver the commencement address at the Culinary Institute of America, and address student chefs at Johnson and Wales University.
Honored as one of Pennsylvania's Best 50 Women in Business, Sandyhas also been recognized by Pennsylvania Senator Judith Schwank and the City of Reading for her dedication to diverse ethnicity employment and her exemplary community service. She is a member of the Zenith Group, helping minority business women gain a larger piece of the purchasing pie.
Sandy lives in Reading with her husband, Doug Messinger, Sweet Street's vice president of Planning and Technology and managing director, International, and daughter, Zoe, student at Cornell University, School of Hotel Administration and author of the cookbook Foodie Two Shoes.