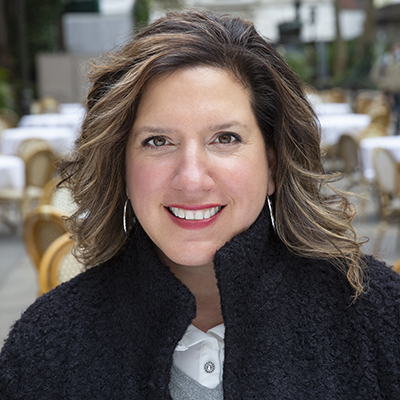 Mia Kyricos '03
Cornell Nolan School affiliations:
Mia Kyricos is a globally respected thought leader with 25+ years of cultivating wellness, hospitality, lifestyle, and travel brands across 100+ countries. As President and Founder of Kyricos & Associates LLC, a strategic advisory and referral firm, Mia provides brand strategy, business development, and operational insight enabling public and private entities to thrive in the $4.5T global wellness economy.
Previously, she was SVP & Global Head of Wellbeing at Hyatt, setting a new hospitality industry standard as the leader and curator of the company's global wellbeing strategy, spanning commercial health and wellness-related products, services, and partnerships, as well as colleague wellbeing worldwide.  Prior to Hyatt, she was Chief Brand Officer of Spafinder Wellness, Inc., where she led the company's brand evolution, positioning Spafinder as the global authority on wellness providers and resources.
Mia also served as Vice President of EXOS where she oversaw and expanded the workplace wellness start-up division operating on Fortune 500 corporate campuses. Prior to EXOS, she was Director of Global Spa Brands at Starwood Hotels & Resorts where she led the creation of 6 international spa brands and managed the Starwood Spa Collection – a consortium of 60 wellness travel destinations across 26 countries.
Mia's work and expertise has been featured in business and trade publications including The New York Times, LA Times, CNN, Smart Money, Hotel Business, Travel Weekly, Lodging, Real Simple, Market Watch and more. She holds a Master of Management in Hospitality Administration (MMH) from Cornell University where she was named 2019's alumna of the year, and a BA in International Relations from Wheaton College in Massachusetts.
She has served the boards of the Global Wellness Summit, and the University of California Irvine, and currently sits on the Advisory Boards of Cornell University, Wellness for Cancer, and the Global Wellness Institute (GWI), a 501(c)(3) non-profit educational foundation she helped found.
SHE SIMPLY ASPIRES TO HELP PEOPLE LIVE WELL.