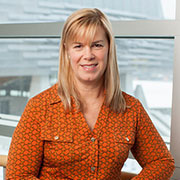 Meg Hardie Keilbach
Alumni Affairs and Development
Meg Keilbach, CALS '88 is a major gift officer in S.C. Johnson College of Business with a focus on the Cornell Peter and Stephanie Nolan School of Hotel Administration. She joined the school in 2002 and has worked in both alumni affairs and development.
Prior to that, Keilbach worked as a program officer in alumni regional programs, and for the President's Council of Cornell Women in central Alumni Affairs and Development.
Prior to returning to her alma mater, Meg worked in project management for Staples, Inc. in Massachusetts. She received her bachelor's degree in business management and marketing from Cornell University's College of Agriculture and Life Sciences in 1988.