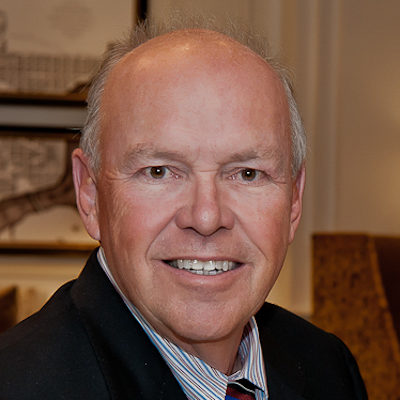 Leland Pillsbury '69 is a venture capitalist with a special focus on the hospitality industry.  He co-founded Thayer Lodging Group Inc. in 1991 and served as Co-Chairman and CEO until May of 2014 when it was sold to Brookfield Asset Management. He now  serves as Chairman, Thaye
Pillsbury is co-founder and chairman of TIG Global, an internet marketing company serving over 1,500 hotels around the world. He is also the co-founder and chairman of EMC Venues, the country's largest resort and conference center marketing representation firm; cofounder and chairman of Thayer Insurance Group, provider of specialized insurance coverage to hotel and hospitality firms; cofounder of HUBS1, provider of the only global distribution system and central reservations system to the domestic Chinese hotel and airline industries; and cofounder of HQuant, a financial and analytical firm serving the hospitality industry and publisher of the HQuant Lodging Real Estate Index.
Prior to forming Thayer, Pillsbury founded Grand Heritage Hotels, a manager of historic and unique independent hotels. Earlier, Pillsbury spent 20 years at Marriott Corporation, serving in leadership roles in hotel general management, sales, marketing, and strategic planning and development. In 1986 at Marriott, he was named a corporate officer and executive vice president. He revamped Marriott's pricing strategies, developed the first generation of revenue management and yield management systems, and developed Marriott's frequent traveler program. He launched venture teams that led Marriott's entry into the time-sharing business and the Fairfield Inns economy lodging business, and acquired the Residence Inn Company. As vice president and general manager of Fairfield Inns and Residence Inn, Pillsbury supervised 18,000 people and in excess of $1 billion in capital investment in lodging products.
Pillsbury received a B.S. from the Cornell School of Hotel Administration and an Executive M.B.A. from Northwestern University J.L. Kellogg Graduate School of Management. He serves on the University Council at Cornell University; the Dean's Advisory Board of J.L. Kellogg School of Management; and is a director and investor in several privately held companies. He is a member of the Cornell University Board of Trustees. He serves as Vice Chairman of the Investment Committee that oversees Cornell's $5.2 billion endowment and is a member of several other standing committees of the Board. He is a member of the School of Hotel Administration Dean's Advisory Board and the Real Estate Council.  Pillsbury has recently been named a Frank H.T. Rhodes Class of 1956 Visiting Professor and lectures frequently at Cornell's seven undergraduate schools and the Johnson Graduate School of Business.
Pillsbury and his wife, Mary, are the founding benefactors of the Leland C. and Mary M. Pillsbury Institute for Hospitality Entrepreneurship at Cornell University.