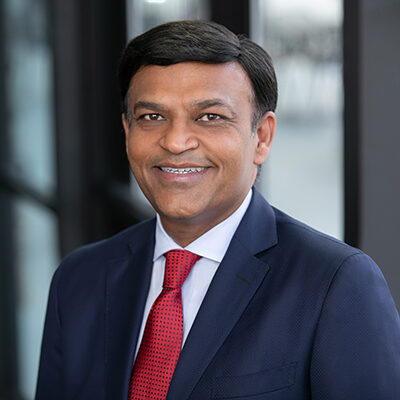 Dharmendra J. (D.J.) Rama, MMH '96
Cornell Nolan School affiliations:
Growing up in a hospitality family, D.J. Rama knows every aspect of the business. While holding on to the legacy that his family built through four decades of hard work and integrity, he adds his knowledge of current trends and best practices to lead JHM Hotels into the 21st century of the lodging industry. He leads a team that oversees all existing operations in the full-service and select-service portfolios as well as developing future strategies for growth and profitability.
Rama obtained his Bachelor of Science in hospitality management from Johnson & Wales University, Providence, RI, and a Master of Management in Hospitality from Cornell University, Ithaca, NY. He is a 2016 Graduate of the OPM Program of Harvard Business School. He has worked for Holiday Inn Worldwide, Interstate Hotels, and the Marriott Corporation on his way to his present position with JHM Hotels.
Rama has a passion for providing a quality experience in every area of hospitality, from design and aesthetics to customer service. His hands-on attitude, attention to detail, and keen listening skills set him apart. Since becoming president of the company, Rama created O.N.E. (Outreach, Nurture, Encourage), a charitable giving and volunteer arm of the company, that focuses on giving back in meaningful ways to support education and poverty.
Rama also serves on the Owners Advisory Councils for both Hyatt Hotels and Resort and Marriott Hotels and Resorts, striving to make a positive impact in his field.
Beyond his work with the company, Rama also enjoys sharing the fresh lake air with his son, has a passion for visiting unique hotels, and has found a new love for cycling.
Professional Affiliations and Honors
President, Cornell Hotel Society of South Carolina
Board member, American Hotel Foundation
Georgia State Hospitality Advisory Council
Distinguished Professor, Michigan State University Hospitality School
Member, Hyatt Hotels and Resorts Owners Advisory Council
Member, Marriott Hotels and Resorts Advisory Council
Auro University Board of Trustees
Peace Center for the Performing Arts, Board of Trustees
Cornell MMH Outstanding Alumnus of the Year 2013
American Hotel and Lodging Association Board Member 2014