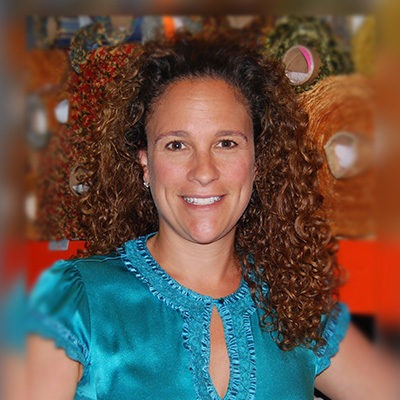 Diana Dobin is CEO of Valley Forge Fabrics, the largest decorative textile products supplier to the hospitality industry worldwide. Dobin is second  generation leadership of this family-owned business, and partners with her brother Michael. Headquartered in South Florida, Valley Forge is respected for its environmental stewardship, agility, speed, and adaptability to each customer.
Diana is also co-founder of WeaveUp, a technology start-up that was developed to connect artists to the specifiers and buyers in the hotel industry in order to put customization of textiles into the hands of Valley Forge customers. The WeaveUp customization tool allows users to select and sort through an ever growing library of designs, customize color and size, and place orders of their choice from 25 different fabric qualities—in just a few clicks. WeaveUp protects and celebrates authorship, so that artists retain ownership of all their intellectual property and get commissions against sales. Originally launched to the trade only, WeaveUp was released to consumers in Q3 2015.
With 20 years' experience, Diana's present responsibilities include company strategy, sustainability, mentorship, and design and brand leadership.
Diana is a LEED Accredited Professional who is also active in educating her community in the areas of business, innovation, creativity, and environmental sustainability. A board member of Sustainable Florida, she graduated from Lafayette College with a Bachelor of Arts in English and psychology. Diana loves yoga, art and fashion, journeys to unfamiliar destinations, and enjoying time outdoors with her family.