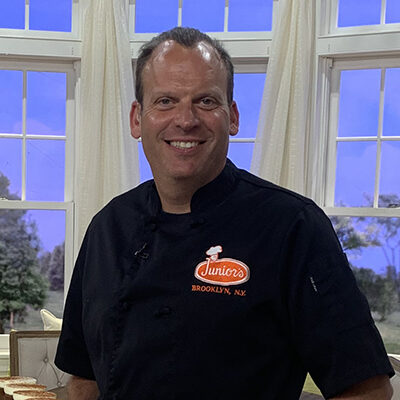 Alan Rosen '91
Cornell Nolan School affiliations:
For those in the know, there is only one cheesecake: Junior's. Indeed, Junior's has been called the "World's Most Fabulous Cheesecake" by scores of media, including the Wall Street Journal, New York Magazine, NBC's Today, and ABC's Good Morning America, not to mention by countless celebrities, entertainers, politicians, and other notables. Recently, Thrillist named Junior's cheesecake one of the fifty things you need to eat before you die. But the proof is in the tasting: Junior's sells over ten million slices of cheesecake each year.
The man behind this extraordinary success is Alan Rosen '91, the third generation of the Rosen family to lead the venerable brand. Born and raised in New York City, he grew up watching his father, Walter, run the original Junior's restaurant. While in high school and college, Rosen spent his summers learning the business while also acting as a manager at the original Brooklyn location. There was little doubt that he would one day guide the company that was founded by his grandfather, Harry, in 1950.
After graduating from Cornell University's School of Hotel Administration (SHA) in 1991, Rosen spent three years working at other industry restaurants before returning to Junior's. He started off at Junior's as the director of marketing, with a goal of growing and expanding the business beyond the original Brooklyn location.
And grown it has. Co­-owner with his brother, Kevin, Rosen celebrated Junior's 50th anniversary in May 2000 by opening a second location in Manhattan's world-famous Grand Central Terminal. In 2006, Rosen brought the restaurant to a hugely successful Broadway debut as he opened a new location in the heart of Times Square. Two years later, in 2008, he opened a restaurant in the Foxwoods Tower in Foxwoods Resort & Casino. Junior's also has operations in Barclays Center in Downtown Brooklyn. Most recently, Rosen expanded Junior's baking operations to a 103,000-square-foot baking facility in Burlington, New Jersey.
In addition, Rosen has grown the Junior's brand internationally. Junior's cheesecake is sold in Japan, France, and South Korea, where two licensed retail outlets recently opened.
Today, Rosen oversees the restaurants, retail bakeries, wholesale, and mail-order operations, which generate over $65 million in sales annually. Junior's serves over 5,000 customers daily and sells approximately 20,000 cheesecakes every week.
As the public face of Junior's, Rosen appears on QVC 50 times every year and has also appeared on numerous national television shows, including ABC's Good Morning America, The Chew, NBC's Today, Food Network's Throwdown with Bobby Flay, and Emeril Live. He is the co-author of three books, including the best-selling Junior's Cheesecake Cookbook: 50 To-Die-For Recipes for New York-Style Cheesecake (The Taunton Press, 2007), Junior's Dessert Cookbook: 75 Recipes for Cheesecakes, Pies, Cookies, Cakes and More (The Taunton Press, 2011), and Junior's Home Cooking: Over 100 Recipes for Classic Comfort Food (The Taunton Press, 2013).
Rosen is on the board of Fulton Mall Improvements Association as part of the Downtown Brooklyn Partnership.