PIHE's Entrepreneurs in Residence: Patrick Bosworth
October 19, 2020 @ 10:00 am

-

10:30 am

PDT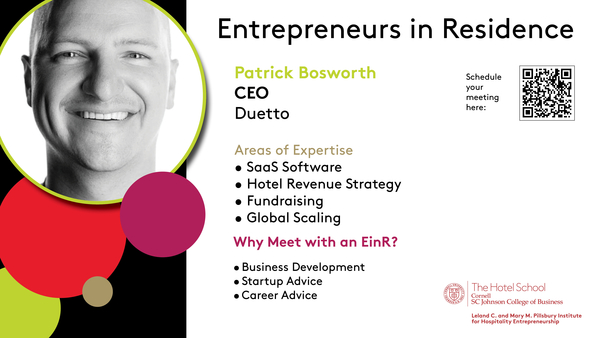 Key areas of expertise:
SaaS Software
Hotel Revenue
Fundraising
Global Scaling
As Co-CEO of Royalton Investment, Patrick focuses on start-up businesses within Royalton related to new business models in yachting, and developing hospitality and wellness projects.
Patrick is an advisor to Duetto Research, which is a company he founded in 2012.  He served as CEO, President & Chairman throughout his tenure at Duetto until deciding to join Royalton.  He led the company to significant milestones, including growth to serve more than 3,500 hotel and casino properties in over 60 countries.  He raised over US$140M while serving as CEO from some of the top investors in the world, and he promoted his successor during a time of record growth and company performance.
Patrick serves as an advisor to technology companies in the transportation, real estate, and human resources sectors.  He also served on the board of Eoliasur, which develops wind energy in Argentina, and the charity, Win-Win Entertainment.
Previously, Patrick was an executive at Wynn Resorts in the US and China, and he was an appointee in the administration of U.S. President George W. Bush. He holds an MBA from Harvard Business School and a bachelor's degree in political science from the University of San Diego.
Patrick is available to meet at the following times in 2020:
***Please note all times are in Pacific Time***
Monday, October 19: 10:00 – 10:30 am PDT and 6:00 – 6:30 pm PDT
Tuesday, October 20: 11:30 am-12 pm PDT
Monday, October 26: 10:00 – 10:30 am PDT, and 6-6:30pm PDT
Tuesday, October 27: 11:30 am-12:00 pm PDT
Monday, November 2: 6:00 – 6:30 pm PST
Monday, November 9: 6:00 – 6:30 pm PST
Tuesday, November 10: 11:30 am-12:00 pm PST
Monday, November 16: 6:00 – 6:30 pm PST
Tuesday, December 1: 11:30 am – 12:00 pm PST
Monday, December 7: 10:00 – 10:30 am PST and 6:00 – 6:30 pm PST
To meet with Patrick, please sign up via StartUp Tree!
Related Events