PIHE: Hilton Hospitality Hackathon
November 5, 2021

-

November 7, 2021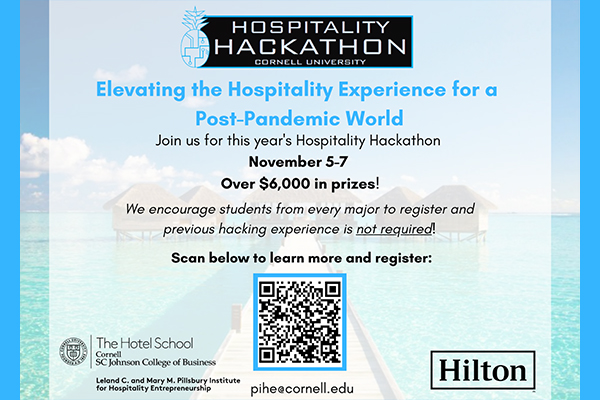 Calling all students! Hilton and the Leland C. and Mary M. Pillsbury Institute for Hospitality Entrepreneurship are partnering at Cornell to Elevate the Hospitality Experience for a Post-Pandemic World. The COVID-19 pandemic has created new challenges for the hospitality industry: a changing labor environment and evolving guest expectations for engaging in the on-property experience. Join us for this year's Hospitality Hackathon focused on solving the most prevalent problems facing the hospitality industry today through technology. We invite students with diverse backgrounds of degrees, majors, and schools to collaborate in teams in order to produce innovative solutions for real world challenges. Previous hackathon experience not required!
Registration Deadline – November 5, 2021

Hilton Hospitality Hackathon
November 5-7, 2021
eHub Collegetown, 409 College Ave
Not sure if this Hackathon is right for you? We encourage all students with interests and skill sets in any of the categories below to participate!
Hospitality/Guest Experience: Students with an interest or background in hospitality and guest services/relations.
Health/Safety: Students with an interest in how to continue keeping guests safe and solve the most-pressing issues that the hospitality industry is facing.
Labor Issues: Students interested in solving the labor issues that have come from the changing employment landscape during the COVID-19 pandemic.
Data Analytics: Students with a knack for dissecting data and thinking analytically to help solve problems.
Technology: Students interested in UX design and deploying technology in a real-world business setting. Also including information technology, business computing, advance business modeling, and databases.
Innovation & Creativity: Students who are generally passionate about innovation and have a creative mindset.
Presentation/Storytelling: Students who are skilled presenters and storytellers and not afraid of public speaking.
Related Events
October 11

|

Recurring Event

(See all)

One event on October 12, 2023 at 12:00 am

One event on November 7, 2023 at 12:00 am

One event on November 8, 2023 at 12:00 am

October 12

|

Recurring Event

(See all)

One event on October 12, 2023 at 12:00 am

One event on November 7, 2023 at 12:00 am

One event on November 8, 2023 at 12:00 am