Marisa Sergi '15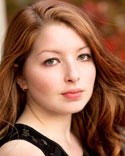 Marisa Sergi '15
CEO and Founder
Marisa Sergi '15's love affair with wine started in the basement of her parents' home with a sippy cup at age 5. In fifth grade, she went public with her dream of being a winemaker. A third-generation winemaker, she came by her career choice naturally, having grown up in the family winery business, and in 2015, she graduated from Cornell with a degree in enology and viticulture. Sergi also interned for and worked at E&J Gallo Winery in California.
Her senior-year capstone project at Cornell led to the launch of RedHead Wine, a unique blend of California Zinfandel and Chilean Carménère. Although Sergi has been working full-time on RedHead only since August 2016, it's already available at nearly 200 stores in Ohio, has a national distribution deal in the works, and scored shelf space with Walmart. She has been hard at work on a Provence-style rosé, with a profile that is fruit-forward but clean, crisp, and refreshing. It has just been released to the market (spring 2017)!
Her longer-term goal is to create an iconic RedHead brand, with a broad product line, aimed at millennials and females. Sergi's wine is her own unique concept, and now a growing business, if you will pardon the pun.