FROM THE DIRECTOR
Entrepreneurship Is Global
In November, the Leland C. and Mary M. Pillsbury Institute for Hospitality Entrepreneurship led the efforts at Cornell in celebration of Global Entrepreneurship Week, part of the Global Entrepreneur Network. Each day, there was at least one event held for various stakeholder groups in the Cornell entrepreneurial ecosystem including students, alumni, faculty, staff, and industry leaders. Two highlights of the week included the Entrepreneurship Is Global Roundtable, where nearly 30 people came together from around the world to discuss five topics, such as the application of Gallup's Entrepreneurial Profile 10 Assessment in both universities and the hospitality industry and authenticity in global value creation. The final event of Global Entrepreneurship Week at Cornell was a 10-year celebration of the Pillsbury Institute's impact in hospitality entrepreneurship during which we presented our decade of hospitality entrepreneurship video.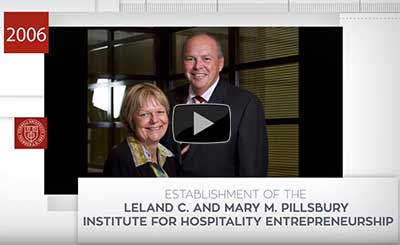 To continue the global focus on entrepreneurship, the Pillsbury Institute will be looking at entrepreneurship in Cuba in 2017. In November, I was able to go on a delegation to Cuba through the International Academic Partnership Program Cuba, a program sponsored by the Institute for International Education. I sincerely hope you will join the efforts to make a difference in hospitality entrepreneurship in Cuba once we announce details of the different programming that we are currently in the process of creating.
As always, we appreciate your support and are thankful for your commitment to engaging in our efforts to pave the path forward for entrepreneurship in the Cornell ecosystem. Please engage with us this upcoming semester as we help pave the path forward for entrepreneurship at Cornell.
Cheers,
Mona Anita K. Olsen '04, PhD
Academic Director of the Leland C. and Mary M. Pillsbury Institute for Hospitality Entrepreneurship
Assistant Professor, Entrepreneurship