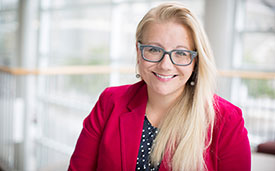 Entrepreneurship is Everywhere
Entrepreneurship is everywhere. Our focus for the semester has been to seek out entrepreneurial opportunities within SHA and build growth into our operations design. With the launch of the Pillsbury Faculty Ambassador Program, we have been able to engage and unite faculty across disciplines at SHA in support of our entrepreneurial efforts at the Pillsbury Institute. Faculty members in this effort are Benjamin Lawrence, Mark McCarthy, Amy Newman, Andrew Quagliata, Stephani Robson, Cheryl Stanley, Neil Tarallo, and Jeanne Varney. Together, they have designed opportunities to engage students, faculty, alumni, and entrepreneurial leaders in their projects, further increasing our ability to support SHA's entrepreneurial curriculum. We also welcomed Jennifer VanAtta, assistant program manager, to our team to help support our growing operations.
As the result of the increased levels of student interest in entrepreneurship at SHA, we have seen increases in demand for entrepreneurship classes and in the number of students actively pursuing the entrepreneurship concentration. I am looking forward to teaching a new course this spring called Global Conversations with Entrepreneurs. It is the twelfth entrepreneurship course offered at SHA, and it purposefully adds a global lens to our entrepreneurial education offerings. We participated in Global Entrepreneurship Week this year via partnering with the Mario Einaudi Center for International Studies at Cornell University for a Virtual Ambassador Program. Kåre R. Aas, the Norwegian ambassador to the United States, presented on Girls' Education as part of Global Entrepreneurship Week and International Education Week. The ambassador gave a brief presentation about some of Norway's top priorities via webcam, and then conducted an engaging dialogue with the students.
With the launch of Gallup's Entrepreneurial Profile 10 (EP10) Assessment Facilitations, we have provided the opportunity for all freshmen and transfer students to be able to identify and understand their top entrepreneurial talents. Further, EP10 allows us to help incoming students more effectively navigate a path to incorporate entrepreneurship opportunities from the start of their experience at SHA.
We continue to rely on the support and efforts of so many talented entrepreneurial alumni and industry leaders who work with us to make a difference in the entrepreneurial journeys of students. With the help of ten Entrepreneurs-in-Residence and over thirty Advisory Board members, we continue to brainstorm paths forward to be able to meet the increased student demand and create innovative programming that is engaging on many levels. Our Meet and Repeat Speed Networking event, for instance, continues to be a popular and highly energetic event for both students and alumni.
As the holiday season approaches, I hope everyone has an opportunity to find time for reflection. Further, I hope as resolutions for 2016 are crafted, that you will consider engaging with us at the Pillsbury Institute. There are a tremendous number of ways to get involved in the spring 2016 semester. You can learn more on our newly launched website at pihe.cornell.edu or filling out the engagement form.
I am very excited about what 2016 will bring for us at the Pillsbury Institute. What would have to happen in order to make 2016 the best year ever?
Many thanks for your continued support for entrepreneurship at SHA,
Mona Anita K. Olsen '04, PhD
Associate Academic Director, Leland C. and Mary M. Pillsbury Institute for Hospitality Entrepreneurship
| Assistant Professor | Committee Chair, International Academic Partnership Program Norway at Cornell