Stacy Fischer-Rosenthal, P '16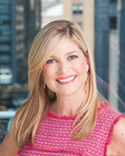 Stacy Fischer-Rosenthal, P '16
President
With more than 36 years of luxury travel experience, Stacy Fischer-Rosenthal, President of Fischer Travel Enterprises, has been instrumental in transforming the hospitality industry through her world-renowned membership only travel and lifestyle company. She has dedicated her career to honing the Fischer Travel brand and standard of incomparable excellence, providing personalized out-of-the-box experiences and making the impossible possible for her clients. As a dynamic and motivated businesswoman, Stacy is involved with all aspects of running a successful business. Her relationships, leadership, and networking prowess are the heart and soul of Fischer Travel.
Driven by her passion and desire to further her expertise, Stacy successfully launched Fischer-Rosenthal Consulting. FRC advises premier hotel properties on how best to attract and retain an affluent clientele.
A much sought-after advisor, she currently sits on the Advisory Boards of the Four Seasons Hotels & Resorts, Marriott International Luxury Brands (MILUX), Aman Hotels, Resorts & Residences, Rosewood Hotels & Resorts, Park Hyatt and JG Black Book Collection. Her participation in an array of forums has her at the forefront when expertise in the ultra-luxury market is sought. Most recently, as a featured lecturer at the Healing Hotels of the World 2018 Healing Summit held in Berlin. Additional speaking honors have included the American Cancer Society's Taste of Hope Gala where she was an honored award recipient. LaGuardia Community College has also benefited from her extensive entrepreneurial background when she spoke at their Pathways to Success/Speakers Series.
A devotee of Cornell University, it was a privilege for her to speak on the Women in Hospitality Leadership Panel at the 88th Annual Hotel Ezra Cornell program in 2013 and to be a featured lecturer at the Cornell University Dean's Distinguished Lecture Series in 2014.
Always ready to lend a helping hand, she is a strong advocate of the premise "giving back." Stacy and her family are actively involved with Ramapo for Children, a non-profit organization supporting children with special needs, and City Meals on Wheels. A seventeen-year breast cancer survivor, Stacy vigorously champions for Memorial Sloan-Kettering Cancer Center and the Susan G. Komen Foundation.
Both Fischer Travel and Fischer-Rosenthal Consulting are proud to participate in the Cristo Rey Brooklyn High School Corporate Work Study Program and LaGuardia Community College, which is devoted to educating and mentoring students in the workplace.
Stacy lives in Manhattan with her husband, Richard Rosenthal. Their son Max is a proud 2016 graduate of Cornell University's School of Hotel Administration.