2017 Titans of Real Estate

The Center for Real Estate and Finance (CREF) hosted the Second Annual Titans of Real Estate panel discussion on Friday, April 28, 2017 at the Pierre in New York City.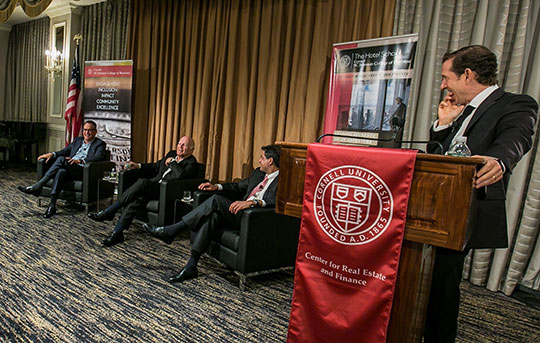 The nearly-350 guests attending the event included Cornell alumni, students, and real estate industry professionals.
Panel members Sandeep Mathrani of General Growth Properties, Steven Roth of Vornado Realty Trust, and David Simon of Simon Property Group, along with moderator Richard Baker '88 of the Hudson's Bay Company, shared candid stories and insights with the audience about their rise to the top of the real estate industry.
CREF would like to thank moderator Richard Baker for his contributions in organizing the event, as well as event sponsors Bank of America Merrill Lynch, JLL, Eastdil Secured, and Singerman Real Estate.