2016 CIRECC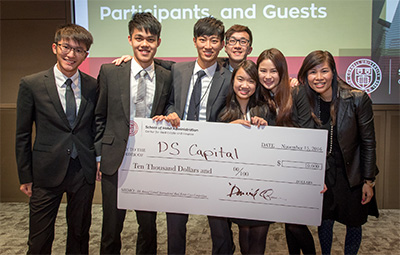 The 8th Annual Cornell International Real Estate Case Competition took place in New York City on Tuesday, November 15.
With 20 teams competing this year, the stakes were high.
Congratulations to the Chinese University of Hong Kong for taking home first place in the competition.
We are proud of all of the competing teams for their hard work and dedication, including the Cornell team of Grant Behnke '17, Giovanna Cavagnaro '17, Teddy DeVico '17, DJ Fan '17, Jack Henry Kapp '17, and Jessica Zhang '17. The time and effort that all students put into preparing for this competition was very apparent in the thoroughness of their analysis and the impressive presentations.
The University of Wisconsin at Madison and the University of Sydney tied for second place, the University of Queensland took fourth place, and Brandeis University, fifth place.
Videos of the top-placing teams' presentations:
Judges
Amy Applebaum, CALS '86 – Executive Director, JP Morgan
Marty Burger, P '17 – Chief Executive Officer, Silverstein Properties, Inc.
Merrie Frankel – Managing Partner, Andover Associates
Max Friedman – Director, Goulston & Storrs
Jonathan Geanakos – President, Americas, JLL Capital Markets
Jeff Horwitz, CHE '86 – Partner, Head of Lodging and Gaming Group and Private Equity Real Estate, Proskauer
Bruce Kimmelman '91 – Executive Vice President of Capital Markets and Acquisitions, Macklowe Properties
Michael Lehrman, P '18 – Founder and Co-Chief Executive Officer, Cantor Fitzgerald
Fabiana Lotito – Director, Global Real Estate Strategy and Research, TIAA
Jay Mantz – President, Rialto Capital
Allyson Martin – Strategic Real Estate Advisor, HUB International Northeast Limited
Joanna Mulford – Managing Director & PRISA Portfolio Manager/Chief Financial Officer, PGIM Real Estate
Mike Nash – Senior Managing Director, Blackstone
Anthony Orso – Chief Executive Officer and Co-Founder, Cantor Fitzgerald
Peter Peterson '93 – Vice President, Related Urban
Alex Popov '98 – Managing Director, HPS Investment Partners
Ralph Rose, MBA '84 – Managing Director, Global Chief Operating Officer of Real Estate, Citigroup
Chuck Rosenzweig, '85, JD '88 – Managing Partner, Criterion Real Estate Capital
Neil Rubler, A&S '92 – Founder & President, Candlebrook Properties
More Information
The competition is funded in part by the Marjorie Boas Levins and Jack Levins/F.H.T. Rhodes Real Estate Case Competition Fund.