2012 Cornell International Real Estate Case Competition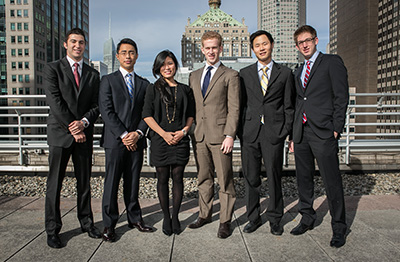 The student team from the University of Pennsylvania (Wharton) has won the fourth annual Cornell International Real Estate Case Competition, hosted by the Cornell Center for Real Estate and Finance and held November 15 at the TIAA-CREF headquarters in New York City. Members of the winning team are Christian Hung, Jason Morgan, Matthew Sherman, Sharon Wang, Eric Wright, and Jay Yang. Runners-up were University of Connecticut and Indiana University. Fifteen Universities were represented, making the Cornell event the largest of its kind in the world. Spirits for the event were high, in spite of an atmosphere dampened by the effects of the recent Hurricane Sandy. Cornell is represented by Amy Yao '13, Shirley Ye Gu '13, Colby Heiman '13, Nazario Paragano '13, Richard Levins '13, and Kai Tan '13, with alternates Tejvir Basra, David Martin, Cicily Zhou, Jeremy Wai, and Jay Edwards. Visiting Senior Lecturer Daniel Lebret coached the team and Professor Daniel Quan organized the competition with the assistance of event planners Melissa Carlisle and Erica Heim. In addition to Cornell, teams from the following schools were given the assignment of analyzing an actual real estate deal: Chinese University of Hong Kong, Indiana University, Maastricht University, New York University, Pennsylvania State University, Renmin University of China, University of Cambridge, University of Connecticut, University of Guelph, University of Michigan, University of North Carolina, University of Pennsylvania, University of Wisconsin at Madison, and Villanova University. The competition is made possible by the following sponsors: Archon Hospitality / Goldman Sachs, AREA Property Partners, BlackRock, Clarion Partners, CreXus Investment Corporation, GTIS , National Realty & Development Corporation, New York Women Executives in Real Estate, Prudential Real Estate Investors, Sawyer Realty Holdings, TIAA-CREF, Tishman, and Westbrook Partners. Thanks to the sponsors' generosity, the prize money now totals $16,000.
The team consisted of:
Christian Hung
Jason Morgan
Matthew Sherman
Sharon Wang
Eric Wright
Jay Yang
Runners up were University of Connecticut and the University of Indiana.