2011 Cornell International Real Estate Case Competition
Cornell Team Wins Real Estate Case Competition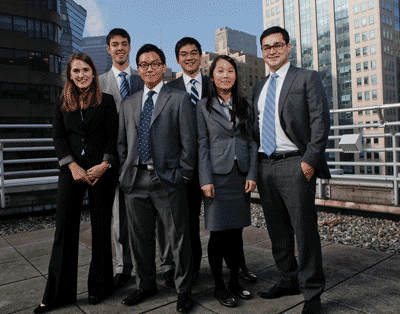 A team of six undergraduates and three alternatives won the 3rd annual Cornell International Real Estate Case Competition, held in New York City on November 10, 2011. The team competed against 10 other schools, including entries from Maastricht University in the Netherlands and Renmin University in China.
This year's case, "Chelsea Plaza" involves a historic 15-story 2.9 million square foot building that occupies a city block in Manhattan. The partnership can harvest significant appreciation if the building is sold, but holding and redeveloping the building is a reasonable alternative. The Cornell team was commended for their analysis of the financial and market data but also for understanding the dynamics within the equity partnership. Judge Frank Sullivan of Clarion Partners said "…the Cornell team understood that the partners had differing motivations; the institutional partners were motivated to continue to harvest annual cash flow after debt service while the general partners were motivated to harvest the appreciated value of the building, a meaningful part of their personal wealth!"
Video of 2011 Competition
The team consisted of:
Omer Ben-Zur, Hotel '12
Christine Boyd, Hum Ec '12
Siheng Han, Hotel '12
Andrew Quinn, Hotel '12
Steven Rowe, Hotel '12
Darren Wang, Hotel '12
Alternates:
Collin Hoo, Hotel '12
Ye (Shirley) Gu, Hotel '13
Amy Yao, Hotel '13
The Cornell Team was ably prepared by Professors Daniel Quan, Judi Brownell and Wally Boudry. Preparations included weekly case preparation, presentation and critique of students' technical analysis and presentation skills.
2nd Place
University of Wisconsin – Madison
3rd Place
Pennsylvania State University