Philadelphia Trek – Connecting with Alumni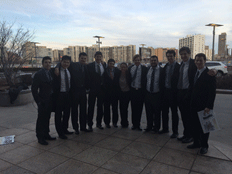 The Real Estate Club teamed up with the Cornell Real Estate Council (Philadelphia) to coordinate a professional development trip to Philadelphia. Over two days in mid-March, Students had the opportunity to meet with over thirty members of the Council – alumni working in real estate – and go on several office-visits meeting with those at the executive level.
The day was well balanced covering a large part of the spectrum of real estate investing. The Club started at TD Bank, learning about debt financing then proceeded to Lowe enterprises to explore development and hotel operations.
During lunch, over thirty Council members met with the Club members, who "had the opportunity to meet people in all phases in their career, those who were just a few years out of college – who were easily relatable – and those we can learn a lot from since they've already 'made it"' said David Weinstein, Co-President of the Real Estate Club.
After lunch, the club members went to Pennsylvania REIT to learn about the real estate side of retail and fund level acquisitions. They ended their day at Lubert Adler, personally meeting with Dean Adler, CEO of the prestigious real estate private equity firm.
A special thank you to Shamit Saha, President of the Real Estate Council Philadelphia, Andrew Benioff, the chairman, and counsel member Derek Sylvester for helping to organizing the trip. The Real Estate Club will definitely be back in Philly next year!
Thursday, March 13 (evening):
• Dinner/networking event with members of the Cornell Real Estate Council
Friday, March 14:
• 8:30 to 10:00 – Breakfast with the TD Bank Real Estate Department (Tim Proctor, SVP)
• 10:00 to 11:00 – Meeting with Lowe Enterprises
• 11:30 to 1:00 – Lunch with 30+ members of the Cornell Real Estate Council and presentation by Will Carpenter, Director of RE for Aldi
• 1:30 to 3:00 – Meeting with Pennsylvania REIT capital markets team
• 3:30-5:00 – Meeting at Lubert Adler (with Dean Adler)