Alumni Profile: Gilda Perez-Alvarado '02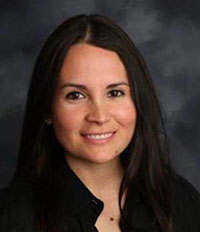 One of the things that Gilda Perez-Alvarado does when she is analyzing the financial and investment prospects of a real-estate deal is to pull her team together—just as she did years ago when she was a student at the Cornell School of Hotel Administration (SHA). Perez-Alvarado, who is a managing director at Jones Lang LaSalle's Hotels and Hospitality Group, works with international investors who are seeking to invest capital in hotel real estate in major global markets. "I work with Asian investors looking for acquisitions in the United States, for example, and U.S. investors seeking properties in Europe," she explained. "But much of my work today goes back to my experience at Cornell, where everything involved teams, whether you planned it that way or not. This was a valuable lesson which I still apply today."
Now based in New York, Perez-Alvarado said that her clients are "hotel investors who seek to strategically invest in major global cities for value creation and wealth preservation and therefore tend to hold assets for the long term." In recent years, Perez-Alvarado has helped off-shore investors assemble deals for such trophy assets as the InterContinental New York Barclay, Jumeirah Essex House, Marriott East Side, and the K+K portfolio. "These are generational acquisitions," she added.
A native of Costa Rica, Perez-Alvarado arrived at the School of Hotel Administration in the late 1990s, just as the school was ramping up its focus on real estate and finance. "That was my passion," she recalled. "I did want a global real estate career, and Professor Dan Quan had recently joined the school's faculty to enhance the hospitality real estate curriculum. I learned a lot in his class, went on to become a teaching assistant, and I still write case studies for his classes. Back then he was my unofficial mentor, and he continues to be my go-to person to this date." Today, Quan is the academic director of the Center for Real Estate and Finance, which supports SHA's academic program in those studies.
Upon her graduation in 2002, Perez-Alvarado joined PwC, where she focused on real estate in the Caribbean. "My friends were all global, and I was fortunate to find an international job," she said. In 2004 she moved on to JLL to work on the brokerage side of the business. Perez-Alvarado has been with JLL for eleven years, and she sees numerous parallels between her current job and her time as SHA. "The school is a small setting in a big university, which allows for good contacts and networking, and now I work in a specialized group within a large, publicly traded company," she said. "My group includes other people from SHA, and it's a microcosm of the school, because everyone comes from different places and backgrounds, yet we are all hotelies."
The team aspect of her JLL job recalls the school as well. "We had a ton of group projects, and you had to work hard to balance the workload as you collaborated with other people. That was a very valuable lesson, because the situation is the same here at JLL," she added.
She enjoys working with hotel investors. "This is such a niche career. Hotels are a special asset class, and investors are passionate about their investments in hotels because it is personal—sure there is the financial motivation behind every investment, but there is also ego and status piece behind owning a trophy property," she said. "When you work with hotel real estate, you are working with people and businesses, not just bricks and mortar."
Given the special nature of hotel investments, the operational aspects of her SHA education have been instrumental in her career. "You have to understand these hotels' operations to buy and sell the assets," she pointed out. "Everything I learned at the school has been applicable. This was the best program that anyone doing what we're doing could go into."