Cornell Team Wins First Place in IHIF Student Case Competition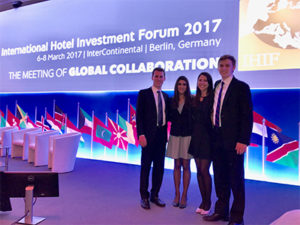 Congratulations to the Cornell team for winning this year's IHIF Student Case Competition, held on March 6, during the 20th annual International Hotel Investment Forum in Berlin. Each year, undergraduate student teams compete in a case competition during the IHIF meeting. This year's teams were required to conduct a financial analysis of a complex, realistic but fictitious hotel deal on an upper upscale property in downtown Amsterdam. Their job was to recommend an investment approach, starting with an estimate of a proper offer amount, and then analyze of the deal's risk profile, brand strategy, and structure, complete with an exit strategy. As part of the competition, judges also gave consideration to the teams' creativity and presentation.
Cornell's team members Grant Behnke, SHA '17; Carolina De Paoli, SHA '17; Jack Henry Kapp, SHA '17; and Tara Oberoi, AAP '18. Runners-up were teams from Ecole hôtelière de Lausanne and Hotelschool The Hague. Faculty members at the School of Hotel Administration provided advice to the students, as specified in the competition's rules. The team was coached by Daniel Quan, who is the Robert C. Baker Professor in Real Estate and Arthur Adler '78, and Karen Newman Adler '78 Director of the Center for Real Estate and Finance. Associate Professor Chekitan Dev shared his marketing expertise, and Amy Newman, a senior lecturer in management communication, provided advice on presentation strategies.
Held annually in Berlin, the IHIF is the largest hotel investment conference in the world, hosting most of the world's hotel chain CEOs and presidents.