From the Director
A Team Effort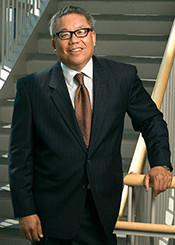 As we close calendar year 2014, I want to take a moment to acknowledge the many people who make possible the wide variety of activities found under the banner of the Center for Real Estate and Finance. Our goal in all of this is to complement and improve our students' educational experience. As you see from the many events highlighted in this newsletter, we have a strong group of supporters. During this season of thanks we would like to extend our appreciation for everyone who contributes to CREF's efforts. Let me highlight a few who have been instrumental in making the fall 2014 semester a successful one.
We thank Harry Macklowe for his recent visit to campus and providing an invaluable experience for the students in sharing his extensive knowledge of the real estate industry. Harry graciously took time not only to speak in the Dean's Distinguished Lecture series, but he also met with students who wanted to gain his perspective on the industry.
Many thanks to the judges who shared their time at the Cornell International Real Estate Case Competition, especially the Cornell alumni who joined us: Chuck Rosenzweig '85, JD '88, Bruce Kimmelman '91, Sanjeev Misra '98, and Thad Paul '98. As you see in this newsletter, the case competition has become the foremost event of its kind—and that is possible only through the support of many real estate experts and financial partners.
Thank you to the leadership of the Cornell Real Estate Club for all their efforts in cultivating an enriching learning environment for their fellow students and looking forward to continued growth within the club.
Last but far from least, thank you to our Advisory Board members. Your faithful support makes all the CREF activities possible and promotes the real estate minor, which is the largest undergraduate minor on campus.
As you see, we have had a busy fall semester, and we look forward to an equally fulfilling spring.
Daniel Quan
Director of the Center for Real Estate and Finance